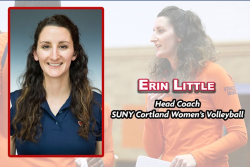 04/09/2019

Erin Little has been selected as the new women's volleyball head coach at SUNY Cortland in an announcement from director of athletics Mike Urtz. Little served on the coaching staff at Division I Syracuse University for the past six years, the last three as the Orange's associate head coach.
"I am so excited and thankful for the opportunity to join the Cortland Athletic Department and serve as their next Head Volleyball Coach," said Little. "I would like to thank all the people who have invested into me personally as a coach and developed me as a player to where I am now and hope only to be able to do the same for others in my future career.
"As soon as I stepped onto the Cortland campus and met with the leadership team and their fellow coaches, I confirmed the Red Dragon pride, the passion for athletics, and the commitment to student-athlete lifetime success that I had heard about from colleagues and alumni. I can't wait to start working with our team on the floor, investing into these student-athletes' lives, and helping to reestablish Cortland Volleyball as a SUNYAC and Division III National Championship contender program."

Last fall Little helped Syracuse finish 19-9, including a 14-4 mark in Atlantic Coast Conference (ACC) play. The Orange qualified for the NCAA tournament for the first time in school history and advanced to the second round with a win over Yale before losing to nationally ranked Penn State. In 2017, the Orange posted a 22-14 overall mark (12-8 ACC) and advanced to the quarterfinals of the National Invitational Volleyball Championship with a 2-1 record. Syracuse also finished 23-8 (14-6 ACC) during the 2015 season.

Little was a four-year player at Syracuse from 2008-11 when the team compiled an overall record of 80-47, including a pair of 20-win seasons and three trips to the BIG EAST Tournament. She was recognized on the BIG EAST All-Academic Team five times and earned a spot on the Syracuse Athletic Director's Honor Roll on nine occasions.

Since 2011, Little has worked as a coach for the IREVA Regional USA High Performance program, assisting the program director with one-day annual tryouts and providing athlete evaluations and high-level skill instruction for summer training camps. She was the head coach for the select youth team at the 2016 High Performance Championships. Little has also worked at numerous regional and national camps and clinics as a coach and presenter.

Little also played in the IREVA High Performance Program, and as a high school player at Burnt Hills-Ballston Lake High School she won two New York State titles and reached the state finals on two other occasions. The Glenville, N.Y., native was named the 2008 Gatorade New York State Player of the Year following her senior year.

"We are incredibly excited to have Erin join our staff," said Urtz. "Her reputation in the Northeast, her expansive knowledge and her leadership skills will be instrumental in returning our volleyball program to national prominence. Erin brings a wealth of high-level volleyball experience with both her playing and coaching background. This is a great addition to our Cortland family."

Little earned a bachelor's degree in advertising from Syracuse in the spring of 2012. She then traveled overseas to play professionally in Finland with the club Orpo. Little starred as an outside hitter and helped her team win the Finnish bronze medal. She is currently finishing her studies for a Masters of Business Administration from Syracuse's Whitman School of Management.

---