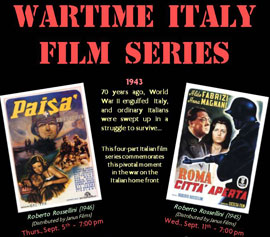 08/27/2013

SUNY Cortland will commemorate the 70th anniversary of a pivotal moment for Italy during World War II with a four-part Italian film series in September.
Hosted by the College's Modern Languages Department, the screenings take place at 7 p.m. in Sperry Center, Room 205. They are free and open to the public.
"Wartime Italy," the title of the four-week series, will focus on the Italian home front and the war experience of ordinary Italians. The three-month period from July to September in 1943 saw the Allied invasion of Italy, the downfall and arrest of prime minister and de-facto dictator Benito Mussolini, Italy's armistice with the Allies and the resulting Nazi occupation of more than half the peninsula.
The series will include classics of Italian neorealist cinema as well as more recent releases. The films and their dates are:
• Thursday, Sept. 5: "Paisà" ("Paisan"), Roberto Rossellini, 1946
• Wednesday, Sept. 11: "Roma, città aperta" ("Rome, Open City"), Roberto Rossellini, 1945
• Tuesday, Sept. 17: "L'uomo che verrà" ("The Man Who Will Come"), Giorgio Diritti, 2009
• Monday, Sept. 23: "Baciami, piccina" ("Kiss Me, Baby"), Roberto Cimpanelli, 2006
"This period in Italian history has long been a source of inspiration for filmmakers and this was the impetus for organizing a special film series to mark the occasion," said Mark Cerosaletti, an instructor of modern languages at the College.
In addition to the two classic and critically acclaimed Rossellini films, Cerosaletti said he is excited to screen the two more recent films, given that neither has been available for general release in North America in theaters or on DVD.
"L'uomo che verrà" won the David di Donatello Award — the Italian Oscar — for Best Film of 2009. "Baciami, piccina" presents a different, whimsical take on the wartime experience, making it a perfect finale for the series, Cerosaletti said.
The "Wartime Italy" film series is supported by SUNY Cortland's Modern Languages and History departments, the Dean of Arts and Sciences and Auxiliary Services Corporation.
For more information, contact Cerosaletti at 607-753-2032 or mark.cerosaletti@cortland.edu.
---