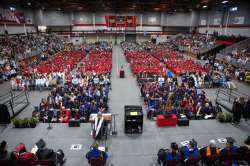 10/22/2019

SUNY Cortland's Commencement in May was a major life milestone for the more than 1,000 students who earned diplomas.
It was also a significant moment of reflection for the parents, grandparents, siblings and friends who cheered on the graduates.
William Proefriedt of Farmingdale, N.Y., penned a letter to Newsday about watching his grandson Josh Finkelstein '19 at Commencement.
Proefriedt commented on the wisdom shared by former Student Government Association President Sophie Umansky '19 as well as the remarks of President Erik J. Bitterbaum.
"When I graduated from college in the 1950s, I was the first in my family to do so," Proefriedt wrote. "My father had graduated from high school and my mother from eighth grade. I didn't appreciate then how important my graduation ceremony was to my parents. I'm sure there was a healthy percentage of parents and grandparents in the audience at Cortland whose pride and enthusiasm were fueled a bit more warmly by a child being the family's first to receive a degree."
Read the entire letter at Newsday.com.
In other news:
---