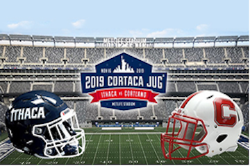 11/07/2018

By this time next year, Cortaca Jug, "the biggest little game in the nation," might have indisputable evidence of that title.
On Nov. 16, 2019, the annual rivalry game between SUNY Cortland and Ithaca College will move for one season to New Jersey's MetLife Stadium — home to the NFL's New York Jets and New York Giants — in an effort to make Cortaca Jug the best attended Division III football game in history.
The record to beat was set in 2017 when St. Thomas University and St. John's University (Minn.) played at Target Field, home of Major League Baseball's Minnesota Twins, attracting 37,355 fans.
More than 18,000 SUNY Cortland alumni live in the Greater New York City area and nearly half of all SUNY Cortland students come from that region. The Cortaca Jug typically draws 10,000 spectators and sparks dozens of alumni viewing parties nationwide. Sports Illustrated once referred to it as "the biggest little game in the nation."
"This is an amazing opportunity for the colleges, the teams and the tens of thousands of Red Dragon and Ithaca College alumni who have experienced Cortaca Jug and continue to enjoy the excitement and fun of one of college football's most enduring rivalries," SUNY Cortland President Erik J. Bitterbaum said.
The two teams played the 60th Cortaca Jug on Saturday, Nov. 10, 2018 at the SUNY Cortland Stadium Complex. Despite a heroic Red Dragon comeback, Ithaca prevailed, 24-21.
Ithaca College will host the 61st edition of the contest in MetLife Stadium on Saturday, Nov. 16, with a 1 p.m. kickoff.
Ticket sales will begin on Dec. 1. Tickets for the general public are $15, $25 and $35 and will be sold through Ticketmaster at http://www.cortacajug.com/. Tickets for students, staff and faculty of SUNY Cortland and Ithaca College will be priced at $15 and will be sold by the respective schools.
"This is an incredibly exciting moment in a storied rivalry already full of amazing memories," said Mike Urtz '94, M '00 SUNY Cortland director of athletics. "The Cortaca Jug game is the best that small-college football has to offer and is deserving of a first-class venue such as MetLife Stadium. We are looking forward to watching Cortland's great alumni and fans, along with Ithaca's, set a new Division III attendance record."
The change of venue was done at the invitation of the New York City Chapter of the National Football Foundation (NFF), a nonprofit educational organization that counts several Ithaca College alumni as members of its New York City board of directors. The game will be part of a national celebration of college football's 150th anniversary.
"As college football celebrates 150 years throughout next season, we are honored to work with the National Football Foundation in supporting this effort by having this incredible rivalry be a featured game," said Susan Bassett, associate vice president and director of intercollegiate athletics and recreational sports at Ithaca College.
MetLife Stadium is located in East Rutherford, New Jersey, just eight miles outside of New York City. Since opening in 2010, the stadium has hosted such major events as Super Bowl XLVIII, the 2016 Copa América Centenario Final, Wrestlemania 29 and concerts by Bruce Springsteen, Beyoncé and Jay Z, and U2.
Founded in 1947, the National Football Foundation is a nonprofit educational organization that runs programs designed to use the power of amateur football in developing scholarship, citizenship and athletic achievement in young people. College Football 150th Anniversary is a nonprofit corporation formed to plan and administer a national celebration of 150 seasons of collegiate football in 2019. The commemoration will showcase the rich history and traditions of the sport and its contribution to American society and culture, while also promoting the opportunity it continues to provide to thousands of student-athletes across all levels.
"It's fitting that SUNY Cortland, currently in the middle of its own sesquicentennial celebration, recognize a similar benchmark next year for college football," Bitterbaum said.
Although Ithaca and Cortland began playing each other in 1930, the Cortaca Jug rivalry originated in 1959. Friends and respective team captains Tom Decker '61 of Cortland and Dick Carmean of Ithaca picked up a jug at a yard sale to serve as the prize for the winner of the annual game. Each year's result is painted on the Jug — the original one ran out of room for scores in the mid-1980s, and the teams are now on their third Jug.
---