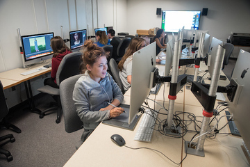 05/07/2019

Middle school students interested in exploring the world through math and data will have an exciting new opportunity to do so this summer as a SUNY Cortland Data Dragon.
Students currently in grades 6 through 8 are welcome to join the inaugural Data Dragons hands-on learning experience from Monday, July 8, to Friday, July 12.
"Data is everywhere. Numbers are everywhere," said John Foley, co-coordinator of the new academic camp. "So helping someone better understand it at a younger age, they become a better consumer of it. And if you get kids in middle school who have some basic concepts of it, that will just help them in high school and help them in college."
Foley, professor and chair of the Physical Education Department, teamed up with Kathleen Burke, chair and professor of the Economics Department, to create a way for young students to gain an appreciation for collecting, analyzing and presenting data.
Throughout the week, there will be fun physical activities held both inside and outdoors. The students will measure things like heart rate and activity and will be able to calculate the enjoyment levels of themselves and others. They also will learn about the graphical representation of data and how to utilize Microsoft Excel to analyze and display the results.
Students will start by examining the colors of M&M candy to understand basic statistical concepts such as averages, percentages and frequency distribution. They will then take advantage of Park Center's Activity Movement Pedagogy Lab to measure their own physical abilities and generate data to study.
"You see graphics everywhere now and understanding what those mean and how they're trying to influence you will help you be an informed consumer and citizen," Burke said.
At the end of the week, after students have learned and experimented with data, they will hold a poster presentation to share their personal findings, which will be accompanied by a pizza party.
Alongside the Data Dragons that same week, SUNY Cortland will also offer a Summer Art Workshop for students ages 14 to 18, currently in grades 8 through 12, that have a love for art and creativity. They will explore animation, fiber, mixed media and light-sensitive processes.
Each day, students will use a new medium and learn how to create their own art. Dyeing, heat transfer and embroidery will all contribute to the week's theme of "Assemblage." At the end of the week, they will present their creations to their family and friends.
The Summer Art Workshop will take place in Dowd Fine Arts Center. Three Art and Art History Department faculty members, Martine Barnaby, Charles Heasley and Jenn McNamara, designed this workshop to teach students the many forms art can take.
Both programs will run 8 a.m. to 4 p.m. through the week.
The cost to register is $175 per student through Friday, May 31. The fee rises to $200 from June 1 to the registration deadline of Friday, June 21. Space is limited.
Lunch will be provided, but students are encouraged to bring their own snacks.
More information will be sent to registrants two weeks before the programs start.
To learn more and to register, visit Cortland.edu/academic-youth.
Prepared by Communications Office writing intern Skyeler Paparteys
---