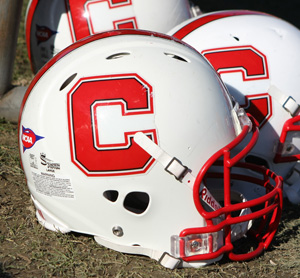 01/31/2014

SUNY Cortland becomes part of Empire 8 football starting in 2015 as an affiliate member.

The Red Dragons will join The College at Brockport, Buffalo State College, Frostburg State University and Salisbury University as affiliate football members. Full football-playing members of the conference are Ithaca College, St. John Fisher College, Alfred University, Utica College and Hartwick College.
Cortland has been a football-only member of the New Jersey Athletic Conference (NJAC) since 2000 and will play its final season in the conference this fall.
"Cortland is a strong academic institution with a rich football history with many of the Empire 8 institutions," said Empire 8 Commissioner Chuck Mitrano. "They are a perfect fit and further enhance the competitive level of what is already the toughest conference in Division III."
Cortland has finished at least tied for first in the NJAC six of the last nine years (2005-08, 2010, 2012). The Red Dragons were outright league champions in 2008 and 2012 and won a tiebreaker to earn the league's NCAA automatic bid in 2010.
"It's an exciting time for Cortland football as we embrace change," said Cortland football head coach Dan MacNeill, who completed his 17th season with the Red Dragons in 2013. "This change comes with many expressions of gratitude. First, to the New Jersey Athletic Conference for their welcome embrace many years ago, allowing us to be their first affiliate member, giving us a conference to call home, and honoring us with a storied existence for the last 14 years. We look forward to a year of goodbyes with this 'attitude of gratitude,' humbled and appreciative to be part of this great conference and tradition.
"And thanks to the Empire 8 for accepting Cortland Football into their prestigious conference, where we look to build stronger relationships with familiar competitors and establish new regional rivalries."
In all, Cortland has qualified for the NCAA playoffs eight times – three straight years from 1988-90, along with appearances in 1997, 2005, 2008, 2010 and 2012. The Red Dragons advanced to the national quarterfinals in 1988 and 2008. Cortland has also been selected to compete in ECAC bowl games 11 times.
"Cortland is excited to have the opportunity to play football in the Empire 8 conference," said SUNY Cortland President Erik J. Bitterbaum. "The schools in this conference are outstanding both athletically and academically, and we look forward to this new beginning for Red Dragon football."
"We look forward to meeting new challenges in the Empire 8 and to creating new relationships with some of these institutions that are so close to us geographically but that we haven't had the opportunity to compete against on a regular basis in years past," said the College; Director of Athletics Mike Urtz '94. "We hope we can bring added value to an already great and highly competitive conference."
Cortland was the first non-New Jersey school to join the NJAC for football and was later joined as affiliate members by Western Connecticut State, Buffalo State, Brockport and Morrisville. Buffalo State, however, joined the Empire 8 in 2012 and Brockport will play its first season in the Empire 8 this fall. Western Connecticut joined the newly-formed Massachusetts State Collegiate Athletic Conference football league in 2013.
Empire 8 football teams finished 21-10 in non-conference play in 2013 and have a mark of 259-122 against non-conference Division III opponents since 2002 for a .680 winning percentage. There have been 33 postseason victories in the last 12 seasons with reigning conference champion Ithaca advancing to the second round and at-large selection St. John Fisher advancing to the national quarterfinals in 2013.
A member conference of the NCAA's Division III, the Empire 8 has nine full members and sponsors championships in 23 sports. The member institutions of the league place the highest priority on the overall quality of the educational experience and on the successful completion of its student-athletes' academic programs. The membership seeks to distinguish itself among its peer group for its quality institutions, spirited and sportsmanlike competition, outstanding services and highly ethical policies and practices. Its commitment to serve the educational needs of its student-athletes is the hallmark of the Empire 8.
The Empire 8 can trace its beginnings back to 1964 with the founding of the Independent College Athletic Conference (ICAC). In 1991, the ICAC regrouped to become the Empire Athletic Association (EAA) and in 1999 the EAA became the Empire 8 Athletic Conference.
A public, four-year college of arts and sciences, SUNY Cortland is dedicated to giving all qualified students access to a world-class education. The College offers 64 undergraduate majors, 38 graduate degrees and a commitment to diverse educational experiences marked by outstanding teaching, quality scholarship and meaningful community engagement.
"I am very pleased that Cortland has been approved for football membership in the Empire 8," said Daan Braveman, president of Nazareth College and chair of the E8 Presidents Council. "Cortland's affiliation with the E8 will further engage alumni and the campus community at all member institutions."
---