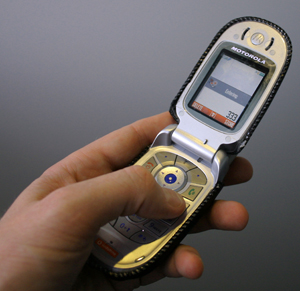 04/23/2012

Reluctant students trudge to the library as their hopeless umbrellas are flipped inside out by the infamous and powerful wind gusts of Cortland, N.Y. It is that time of year again: Pouring rain crashes to the ground while research paper and presentation deadlines creep up.
Does this sound all too familiar? Students may now do research while staying warm and comfortable in their own residences by using SUNY Cortland's research technology assistance, Text a Librarian. This unique service gives students the opportunity to interact virtually with librarians via their mobile devices.
"It is a fast and easy way to get accurate answers to a specific question," said Sara Quimby, assistant librarian at the College's Memorial Library.
Students may ask simple research questions by typing "cort" in the textbox, followed by their question. Messages should be sent to 66746. Librarians provide a response within five to 10 minutes between the hours of 9 a.m. and 11 p.m. Monday through Friday and 10 a.m. to 6 p.m. on Saturday.
"This service provides a great way to find credible sources," Quimby said.
Kaitlynn Cunane, a junior childhood education major from Newburgh, N.Y., recently tried the program for the first time.
"Text a Librarian was really quick and easy and I loved that I didn't have to leave my house," she said. "It took less than 10 minutes to get an answer to a question that I might have otherwise taken awhile to solve."
As a full-time student who is in her first educational block and a part-time worker at a local accounting office, it is hard to find the time to go to the library, Cunane said.
"The text I received back included a link for further reference, which I could click on directly from my phone, and this was convenient," Cunane said. "It saved a lot of time and was really helpful for a busy student like me.
"I will definitely be using Text a Librarian again in the future," she said.
"Twenty-five libraries, some school libraries like ours and some public, are covered through a shared interface," said Lorraine Melita, reference and instruction coordinator at Memorial Library.
The texted questions are sent to an email that all of the librarians share. Each librarian in the program takes about two hours a week answering questions.
"Answers can come all the way from San Jose State to us here in Cortland," Quimby said.
"A lot of times someone will ask a question about their specific library," Quimby said. "Any of the librarians can answer those questions because we all have access to every library catalog that uses the Text a Librarian program.
"Essentially, questions can be answered across the country," Quimby said.
After using the service, participants are asked to fill out a brief survey at goo.gl/Nk5hR to provide feedback about the experience. For more information, email Melita.
---