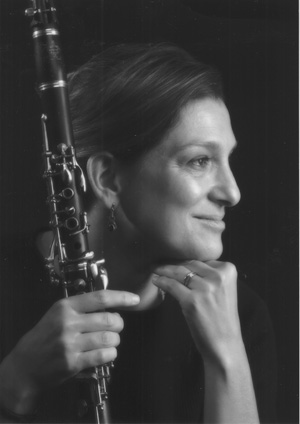 04/11/2012

Classical musician and klezmer specialist Robin Seletsky will present a lecture and performance on music and the Holocaust on Sunday, April 15, at SUNY Cortland.
Seletsky, accompanied by pianist Kim Paterson, will begin at 4 p.m. in the Interfaith Center at 7 Calvert St.
The program, which is an annual event memorializing the tragedy of the Nazi Holocaust, will include excerpts from the children's opera "Brundibar," a work by Czech composer Hans Krasa that was performed at Theresienstadt. Krasa died at the Auschwitz concentration camp in 1944.
Additionally, Yiddish songs, klezmer dances and Yiddish stories will be performed and explained within their historical context, creating a meaningful exploration into the culture that was lost.
Organized by the College's Jewish Studies Committee, the event is free and open to the public. A brief memorial service and a reception will follow.
Seletsky is a classically trained performer who graduated from the New England Conservatory and later attended the Julliard School.
Her interest in klezmer music came from her father, Harold Seletsky, the "Prez of Klez" and leader of the acclaimed West End Klezmorim. Seletsky has attended KlezKamp, where she learned from both an older generation of klezmorim and from leaders in the klezmer revival. She has received grants relating to her work with Jewish folk music, including a project documenting and transcribing music and oral histories of regional Jewish seniors and Holocaust survivors.
The principal clarinetist with the Glimmerglass Opera and the Binghamton Philharmonic, she was cited in 2008 by the New York Times for her work with Glimmerglass Opera.
She has appeared as soloist with the Greenwich Village Orchestra, Catskill Symphony, Utica Symphony, Binghamton University Symphony and the Santa Rosa Youth Orchestra.
In addition to her professional orchestral work, she is instructor of clarinet at Hartwick College and SUNY Oneonta and has given lectures at many colleges and universities. Her professional affiliations include the International Clarinet Association and the Guild of Temple Musicians.
In 1995, Seletsky founded the Catskill Klezmorim, a group of professional musicians that has recorded two CDs and performed scores of concerts around the country.
Her newest ventures include a series of programs for solo klezmer clarinet and symphony orchestra, for which more information is available on her website at robinseletsky.com.
Seletsky also is a member of a new and innovative klezmer ensemble called Big Galut(e), for which more information is available on the Web at biggalute.com.
Paterson serves on the faculty of Hartwick College and SUNY Oneonta and freelances as a pianist, composer and arranger. As a member of the Catskill Klezmorim since 2000, he has acquired a great depth of knowledge of Jewish music. Paterson is a graduate of SUNY Purchase and an alumnus of the Berkshire Music Center at Tanglewood.
The event is sponsored by the Campus Artist and Lecture Series, the Jewish Studies Committee, Hillel and the Center for Gender and Intercultural Studies. For more information, contact Linda Lavine, associate professor of psychology, at (607) 753-2040.
---