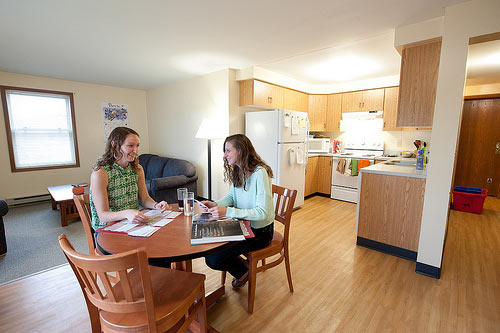 Where can I live?
West Campus Apartments, located approximately two miles from the center of campus. Each apartment has four single bedrooms. Directions to West Campus Apartments from Corey Union (Google Maps).
How much will it cost?
Review the room rates page for more information.
What does the cost include?
West Campus Apartments will be worry-free for you:
Fully furnished living room, dining room, and bedroom with a single (twin-sized) bed
All utilities- you won't have to pay for heat, electric or water
Cable and internet
Laundry- each building has a laundry unit free for all residents to use
Trash and recyclable removal- no need to worry about purchasing city blue bags
Parking is just steps from your door
On-site maintenance- concerns are typically addressed within 24 hours; immediately for all emergency maintenance
Bus transportation- available to and from campus daily and to the local shopping centers on the weekends (not available in the summer, only during the academic year)
How do I get housing?
Contact our office and explain you are a graduate student looking for on campus housing or complete the wait list form. Spaces are very limited and will be available on a first come, first served basis. If we are unable to accommodate your request, you will be placed on a waiting list and we will contact you as space is available.
To complete the wait list form:
Log into myRedDragon
Select to the student tab
Under the Residence Life and Housing section select the Housing Process and Information link
Go to Forms and select "Wait List Housing Request"
If you do not have access to the form, please call 607-753-4724.
When can I move in?
Fall 2023 check-in begins on Saturday, August 26 at 9 a.m. If you need to make other arrangements, please contact Residence Life and Housing.
Visit the West Campus Apartments page for more photos and information about WCA.