The Leadership House is unavailable for the 2023-24 academic year. We expect to open in Fall 2024. Please contact our office for updates.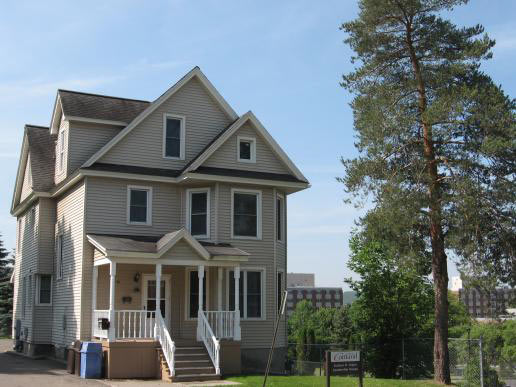 The Judson H. Taylor Leadership House program at SUNY Cortland provides a unique cooperative living and learning experience for students to work together for the common good. This experience enhances leadership development and allows students to participate in activities that encourage community involvement both within the campus and greater Cortland communities.
The Leadership House consists of students who have been active participants in their communities by displaying leadership characteristics, holding leadership positions, and who have a desire to further enhance their leadership skills.
Residency in the Leadership House provides individuals with the opportunity to reside with students who have similar goals and interests related to leadership development. Eleven students are selected through an application process each year to fill the Leadership House. Residence life and housing, academic affairs and the Institute for Civic Engagement have collaborated to ensure the Leadership House is purposefully utilized to provide students with the opportunity to strengthen their leadership skills through various means of community involvement.
Leadership House Highlights
There is a full kitchen, living room, dining area and bathroom on the first floor.
A total of 11 single bedrooms are on the upper floors of the house.
Parking for residents is located directly behind the house.
Residents have a unique opportunity to work with 10 other students to develop their leadership skills and better the SUNY Cortland and city of Cortland communities.
There are additional program requirements for the residents.
Residents are not required to purchase a meal plan.
There are application requirements that must be met for students who wish to be selected to reside in the house.
Leadership House Room Dimensions
Please be aware that these dimensions are approximate and may vary from room to room.
11' 3" x 9' 7" room
5' 3" x 2' 2" window