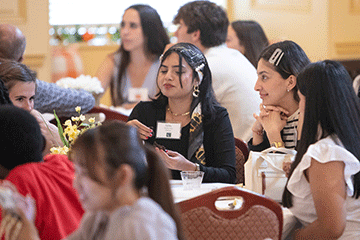 10/10/2023

If SUNY Cortland seems a bit more cosmopolitan this fall, it's not your imagination.
An apparent record number of international students from around the world are studying at the university.
It is a dramatic change from recent years, when international exchanges were first barred by COVID-19 lockdowns, and then tangled by pandemic-related red tape for continent hoppers.
At first, scholars from abroad returned to Cortland in a trickle. This semester, that became a river with the arrival of 50 new international students, who bring the total number of scholars from other countries on campus to 88.
Fifty will earn a degree from Cortland including three students who will receive an extra diploma through the Dual-Diploma Program with Anadolu University in Turkey; 17 international exchange students; 13 visiting students; and eight students who are on campus engaged in practical training. In addition to that, five research scholars are on campus during the semester.
"In my nearly 12 years at SUNY Cortland, this is the highest number of new international students that we have had enrolled for a fall semester," said International Programs Director Daniela Baban Hurrle.
"Students are more interested in studying abroad and feel more comfortable in traveling post-pandemic."
Three newly represented countries among this fall's overseas contingent are Chile, Dominica, and Turks and Caicos, Baban Hurrle said.
"When an international student from a new country graduates, President Erik J. Bitterbaum opens their flag at the Commencement ceremony," she said. "This has been a wonderful tradition to showcase so many flags and cultures over the years."
The largest numbers of international students this fall hail from Canada, Japan, France, Spain, China, Germany, Sweden and Turkey.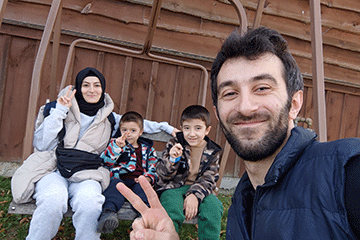 The International Programs Office created several new university partnerships abroad, swelling this fall's campus contingent. Cortland is one of seven SUNY institutions that Kanda University in Japan selected as a partner, in an arrangement that places 10 Japanese students at Cortland this semester with an academic delegation arriving on Thursday, Nov. 9. Meanwhile, two South Korean students from Kwangwoon University are studying at Cortland in an agreement spearheaded by SUNY Cortland Economics Department assistant professor and Kwangwoon University graduate Sam Jung.
The international students favor the Cortland majors in sport management, healthcare management, exercise science, psychology, biomedical sciences, political sciences, teaching English to speakers of other languages (TESOL) and communication and media studies.
"We are hoping to increase the international students' numbers for the coming years," Baban Hurrle said.
"I appreciate how every student is valued here, a contrast to my experience at my previous university in my home country," said Fahima Aqtar, a newly matriculated graduate community health major from Dhaka, Bangladesh.
During her orientation curriculum, at a point where she was feeling lonely in a new country and at new school, Aqtar recalls that university President Bitterbaum approached and struck up a conversation, mentioning to her amazement both her husband and the institution where her husband is studying; something he remembered from a past conversation.
"This approach is a wonderful way to boost students' confidence and ensure they feel valued rather than ostracized," Aqtar said.
Baban Hurrle attributes some of the increase to a more streamlined visa process in some of the European and East Asian countries, which allows some students to mail their passports to the U.S. Embassy to obtain visas instead of traveling to the nearest U.S. embassy.
Cortland's Admissions Office has found ways to make the English proficiency testing process easier for travelers who do not speak English as their primary language, for example, by offering Duolingo language testing.
"It's more cost efficient and students can take it from their home or the local library, and don't have to rely on scheduling tests at their local testing centers," which sometimes were located hours away from students' homes, Baban Hurrle said.
"The fact that English is not my native language means I have to work harder than others to follow and understand the professor," said Samuel Birkner, a sport management major from Cologne, Germany.
He's glad that at Cortland there are classes to help him work on his English language skills as well as the chance to play varsity men's soccer.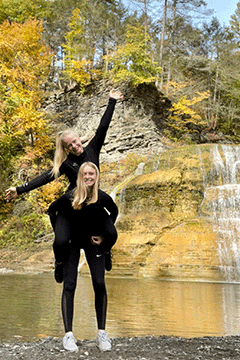 "We need to go to the library three times a week with the soccer team, so we can get a lot of work done there," Birkner said.
The International Programs Office introduces each international student to campus through a robust six-day orientation.
"Our office provides many intercultural events throughout the academic year, which gives students opportunities to better integrate into the Cortland community and experience a part of Americana," Baban Hurrle said.
"The International Programs office has played a huge role in my academics," said Axel Norbro, a junior transfer student from Vimmerby, Sweden. "(The staff) have been extremely supportive and always help me whenever it's needed."
Many offices and departments that engage with the general student population also collaborate to ensure that the international students make the most of their experience. These include the Modern Languages Department, the Learning Center and the Writing Center, Residence Life and Housing office, and the Advisement and Transition office.
Ziyang "Jennie" Guo of Zibo, China, first arrived as an exchange student. This fall, she transferred to SUNY Cortland, where she is a junior economics major who paid it forward as an International Student Orientation leader.
"I am very excited to give new international students the same kindness that I received when I first came to Cortland," Jennie said. "When I talk to international students at other schools, I am always proud that I was well cared for at Cortland."
Top image: International students at SUNY Cortland for Fall 2023 experienced the tradition of dining with the SUNY Cortland President earlier this semester.
---