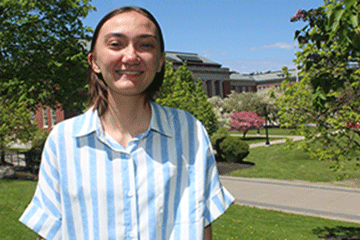 05/16/2023

Last summer, during a five-week academic trip to Costa Rica, recent SUNY Cortland graduate Miranda Kistner '23 discovered how closely linked learning a country's language is to understanding its culture.
"I realized the language was necessary to immerse yourself in the culture," said Kistner, who grew up in small-town Elma in Western New York but had studied Spanish since middle school.
On her first foray outside the U.S. through SUNY Cortland's International Programs Office, she noticed how relaxed and integrated classmates who already spoke Spanish were with their host families.
"If I hadn't learned Spanish, I wouldn't have acquired that worldview," Kistner said. "Without the language immersion, you don't get that full experience and the country doesn't change you."
Five weeks hadn't been enough. When she came back, Kistner began looking for a longer Spanish immersion experience. She applied to use the prestigious cultural exchange program Fulbright U.S. Student Program to bring her classroom capabilities to the next level in Madrid, Spain.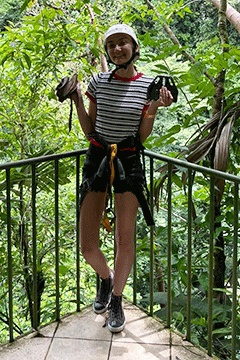 Kistner, an Honors Program student who graduated on May 13 with a 3.99 grade point average, won a Fulbright English Teaching Assistant Award (ETA) and will spend the 2023-24 school year teaching abroad at Colegio Decroly, a high school in Madrid.
"I've never taught high school before but I'm excited to see what it's like," said Kistner, whose education qualifies her to teach from kindergarten through high school.
Kistner earned dual degrees in adolescence education and Spanish with a minor in teacher of English as a second language (TESOL) from SUNY Cortland. During her time at Cortland, she also won an honorable mention for the Kathy Lattimore First-Year Student Award for Writing and a 2022 Dr. Virginia Levine Scholarship in Modern Languages Scholarship.
In addition to working as an English language teaching assistant in Spain, Kistner must also fulfill an independent project to engage with her host community.
"I proposed to do a weekly sustainability workshop that I'd hold in Spanish to educate people about climate change and sustainability," she said. "It's also to learn, myself, about what climate change and sustainability look like in a different country and a different culture."
Kistner was influenced by her honors thesis advisor Jeremy Jimenez, an associate professor in the Foundations and Social Advocacy Department.
"He definitely changed my world view a lot by teaching us about the connections between education and climate change and sustainability and also social justice," Kistner said.
Kistner said that with Jimenez' influence, she was able to learn Costa Rica's lessons on environmental conservation.
"One class project was to look at international sustainability policies that were adopted by Costa Rica and prepare an oral presentation in Spanish," she said.
While abroad, cultural differences on preserving the Earth's scarce resources also caught her attention.
" I was amazed at how their way of life was so connected to the environment," Kistner said of Costa Ricans. "And their homes are much more open to the outdoors. It's like 'We're all in this environment together.'"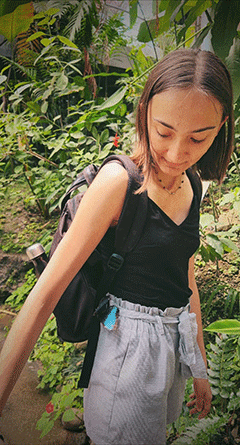 As a four-year recipient of a Cortland's Urban Recruitment of Educators (C.U.R.E.) scholarship, Kistner is committed to returning to the U.S. to teach for two years in a high-needs school district. She gained experience in that challenging environment in Syracuse, where she recently completed her required semester of student teaching among eighth grade classes at Huntington School.
"It's super diverse," Kistner said. "There are students from so many different countries who speak so many different languages. I loved being able to draw on their experiences and their knowledge of other languages, too, to build my lessons and help them acquire and build another language on top of whatever languages they already know."
In Syracuse, she was amazed to see that many of her English language learners picked up Spanish faster than kids who only spoke English.
"It was really interesting to watch unfold," she said. "It just made sense to them. Which I get, because once you learn a second language, you know how to learn a third language."
Established in 1946 by the U.S. Congress, the Fulbright Program has offered international scholarships to foster leadership, learning and empathy between cultures to more than 400,000 Fulbrighters from over 155 countries. Named for the late Senator J. William Fulbright, and sponsored by the U.S. Department of State, the program is the largest U.S. international exchange offering opportunities for students, scholars and professionals to undertake graduate study, advanced research, university teaching and teaching in elementary and secondary schools worldwide. For more information, visit the program's website, Fulbrightonline.org.
---