Alpha Sigma Lambda Honor Society for Adult Students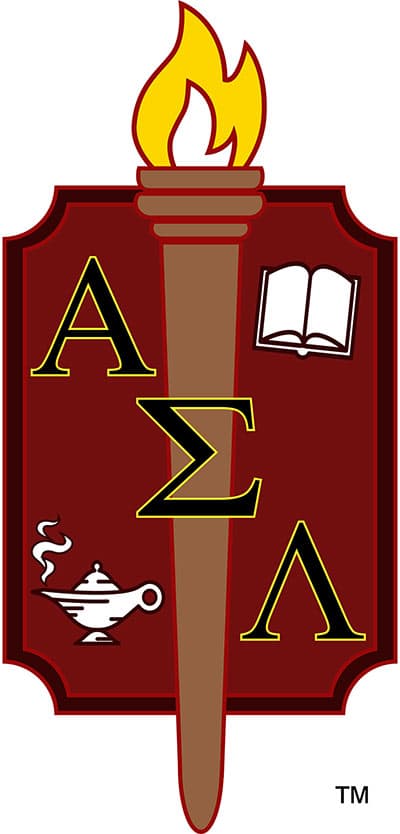 Congratulations to our New Alpha Sigma Lambda Members - 2023!
John Bondi
Ian Durso
Caesare German
Andrea Giuliano
Cassandra Haskell
Soren Jung
John King
Michelle LaMorte
Catherine Lusardi
Natalya Shatskikh
Thomas Tyler
Geoffrey Bender, Honorary Member
Betsy Cheetham, Honorary Member
The 2023 Alpha Sigma Lambda Induction Ceremony and Dinner was held on Tuesday, April 18, at 6 pm.
Dr. Geoffrey Bender, Associate Professor, English Department, was the guest faculty speaker.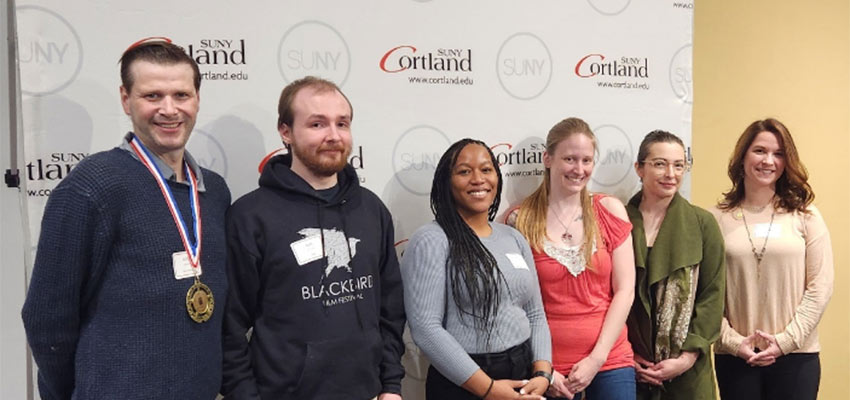 L to R: John B., Ian D., Caesare G., Cassandra H, Andrea G. and Natalya S.
Lambda Omicron Chapter (SUNY Cortland Chapter) of Alpha Sigma Lambda
For more information about Alpha Sigma Lambda: Alpha Sigma Lambda Honor Society.
Welcome to the Lambda Omicron chapter of Alpha Sigma Lambda at SUNY Cortland! Alpha Sigma Lambda is an honor society that partners with colleges and universities to celebrate the scholarship and leadership of adult students in higher education.
History
Alpha Sigma Lambda was founded in 1945 to honor those dedicated adult students, who, while balancing their life responsibilities, achieve and maintain high scholastic standards. Alpha Sigma Lambda is not only the oldest, but also the largest chapter-based honor society for full and part time students.
Membership Criteria for Alpha Sigma Lambda at SUNY Cortland are as follows:
Members must be matriculated, undergraduate students at SUNY Cortland,
have a minimum of 24 graded semester hours completed at SUNY Cortland,
Meet the definition of "non-traditional student" at SUNY Cortland,
have a minimum grade point average of 3.2.* The cumulative scholastic record of the student as interpreted by the institution where membership is to be conferred shall be the basis for computing scholastic eligibility.
Members shall be selected only from the top 20 percent of the criteria listed 1-4 above.
Eligible members were emailed on March 1, 2023.
GPA as of the end of the winter semester.
The 2024 Induction Ceremony will be announced in the 2023-2024 academic year.
Alpha Sigma Lambda Scholarships
You do not have to be a member of Alpha Sigma Lambda to be eligible to apply. (SUNY Cortland has a chapter.) Each college with an Alpha Sigma Lambda chapter may submit two applications to the national level. There are currently over 300 chapters in the U.S. but less than half of them submit applications.
Alpha Sigma Lambda will award six (6) $3000 scholarships and fifteen (15) $2500 scholarships for the 2023-2024 academic year.
To have been eligible for the scholarships, you must:
completed 24 undergraduate hours at SUNY Cortland,
have met a minimum of a 3.2 GPA,
meet SUNY Cortland's definition of "a non-traditional student", and
have financial need
You do NOT need to be a member of ASL to apply.
The deadline to apply for the 2023-2024 Scholarships has passed. Check back in early 2024 regarding the 2024-2025 scholarship application.