Cortland Transit, Cortland County's public transportation system, operates a route that serves the SUNY Cortland campus, West Campus Apartments and neighborhoods in the city that house many off-campus students.
Route 2, which runs on a 45-minute loop from 6 a.m. to 6 p.m. on Monday through Friday, costs $1.50 per trip. Riders may pay with exact fare or they can purchase a monthly pass for unlimited travel for $45. Passes may be purchased at The Campus Store in Neubig Hall.
Cortland County Office Building (60 Central Ave.)
Corner of Maple Ave. and Woodruff St.
Corner of Lincoln Ave. and North Main St.
Corey Union bus stop
Route 281 bus stop
Grand Union Plaza
Burger King
West Campus Apartments
Moffett Center bus stop
Park Center bus stop
Kentucky Fried Chicken
281 Bowl
Tompkins St. eastbound from Route 13/Route 281 to Main St.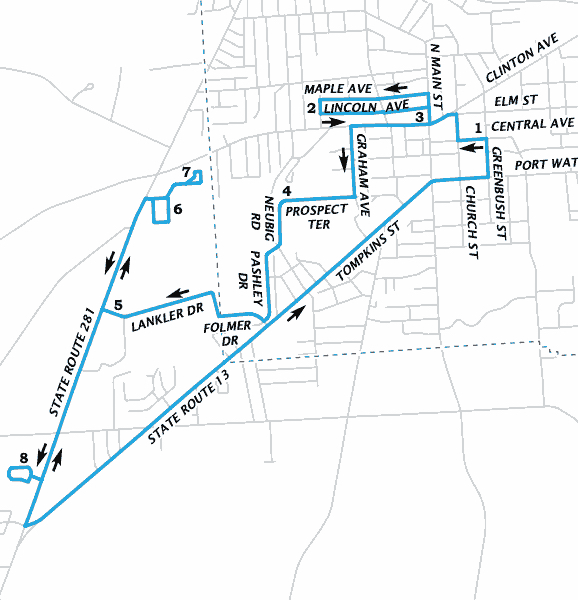 Riders may also flag the driver by waving along any part of the route.
SUNY Cortland encourages students, faculty and staff to make use of this service to alleviate parking congestion on campus, avoid parking tickets and support a sustainable transportation system in Cortland County.
The campus bus system will operate normally. Riders may view maps, routes and schedules online.
Cortland Transit, 21 Squires St.
Access to Independence, 26 N. Main St.
Catholic Charities, 33-35 Central Avenue
Learn more about Cortland Transit's routes at Way2GoCortland.org or by calling 607-758-3383.