Cornell Note-Taking System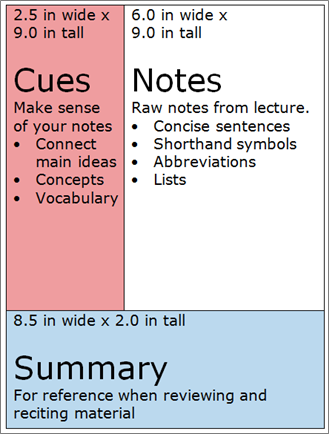 Download the note-taking template (doc)
First: Prep
Occurs before class begins.
Divide notebook paper into 3 sections, as shown in the diagram.
Write the course name and date at the top of each page.
Second: Notes
Occurs during class itself.
Record facts, ideas, and examples. More important information is generally placed on the board or emphasized/repeated by your instructor.
Leave space between ideas and topics
Place a question mark next to something you do not understand in the moment. Clarify any confusion after class by speaking with your professor, classmates, or reading the textbook.
Third: Cues
Occurs as soon as possible after class.
Make sense of your notes by connecting ideas together. Re-read your raw lecture notes to generate:

Meaningful reminders and mnemonics
Simple diagrams
Questions you can ask yourself at a later date to check whether you remember information from this particular class.
Example of questions to ask yourself:

What is the significance of Napoleon, secularism, democracy, and the late 1700s with the French Revolution?
How do ATP, Creb Cycle, and Photosynthesis fit together?
How does z (standard score) fit in with what I already learned about normal bell-curve?
What principles is balancing chemical equations based on?"
How can I apply the elements of a persuasive essay to my own argumentative paper?
If your Notes section is difficult to understand (or contains missing information), incorporate supplemental material from the textbook, office hour visits, classmates, or internet.
Fourth: Summary
Occurs after completing the Cues section.
At the bottom of each page, write a 3-4 sentence summary that encapsulates the main ideas of each page.
Fifth: Review and Recite
On a consistent, daily basis.
For best results, review your Cues and Summary sections several times per week.
Make sure you understand what you wrote and can answer each question you asked yourself.
Further information on note-taking can be found at James Madison University and Nazareth University.
SUNY Cortland students may also schedule an appointment with a professional tutor at the The Learning Center by calling 607-753-4309 or visiting Van Hoesen Hall, Room B-205.