Our Champions
Ashley Ware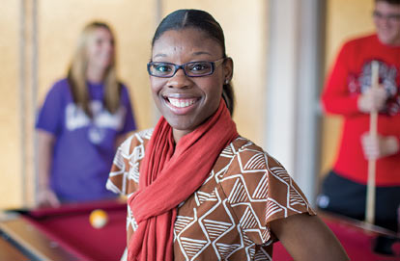 "I'm very much like a mother to everyone."
First-year students from many unique backgrounds make up the majority of Randall Hall's resident population. Yet one thing unites the newcomers: they all find themselves in good hands with Ashley, the building's residence hall director.
One of her biggest strengths is the ability to relate to students, especially those who are new to Central New York. Ashley grew up a big city girl in Queens and relocated to Cortland with little knowledge of the area. Still, she soon embraced the differences in cozy college town life and now helps her residents do the same.
That can include anything from mentoring a homesick student in her office to whipping up homemade guacamole or macaroni and cheese for her student staff — something she does quite often.
"I'm very much like a mother to everyone," Ashley says. "I tell my staff all of the time that we live in an informal place doing a lot of formal things."
At the same time, the wide smile that typically graces Ashley's face serves as an easy indicator that she likes to have fun and stay relaxed. Snow tubing, which she discovered when she came to Cortland, offers another key way to bond with her resident assistant staff.
Ashley has come to enjoy the willingness of students and other residence hall directors to make people feel welcome. Whether getting together to watch television or making it to a restaurant for late-night snacks, the little things go a long way with Ashley.
"In Cortland I can wake up and see trees. And it's pretty when it snows," she says. "Those things might sound silly, but I've come to appreciate them. To be honest, I couldn't imagine calling anywhere else home."