Our Champions
Thomas Corey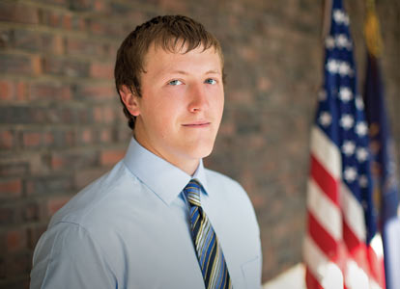 "I've always been interested in law and I'm pretty set on graduating in three years"
It's difficult to find even graduating seniors as wired to succeed as Thomas, a first-year criminology major. He came from more than a thousand miles away to study at SUNY Cortland, leaving behind the sunny skies of his south Florida home. He's certain, however, that the College will propel him to law school, then help land his dream job in the FBI.
"I've always been interested in law and I'm pretty set on graduating in three years," says Thomas, who as a freshman has already started studying for the Law School Admission Test (LSAT) and narrowed his list of potential schools to two. A naturally driven person, he says he wants to outperform his sister, a current law student, by any means necessary, even if that means graduating from SUNY Cortland in three years or scoring in the upper percentiles of the LSAT.
Thomas already seems well on his way, entering college with 17 credit hours from high school and earning the prestigious President's List distinction with a 3.94 grade point average in his first semester on campus. Add to that the fact that he competes as a catcher on the College's varsity baseball team and it's impossible to doubt the lofty blueprint he has prepared for himself.
"To be honest, baseball is manageable, especially if you're able to handle your time well," Thomas says. As a first-year student, he admits he was leery about balancing a long evening class in criminal justice with his rigorous practice schedule in his first semester. That fear subsided once Thomas realized just how motivational studying the perfect major at the perfect college could be.