Our Champions
Stephen Bradley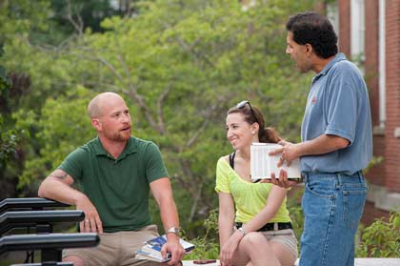 "I'm a history nerd. I don't go through the day without history being present. I'm constantly reading books about history, quoting historical characters, writing songs rooted in a historical time period and helping friends with history tests and papers."
After meeting History Department Chair Randi Storch as an undergraduate, Stephen was won over and has never looked back. "She memorized 60 students' names the first day of class, he says." He dual majored in history and social studies for his bachelor's degree and is halfway through his master's studies so far.
Knowing the department and the professors convinced Stephen to stay at Cortland for his master's degree. The professors are right there willing to help you out and are excited about the material. The work is challenging, especially Professor Girish Bhat's classes, he says.
"He made me a better writer and constantly pushed me to improve. He assigns so much reading that you hate it at first but you appreciate it at the end of the semester when you realize how much you've learned."
Stephen also appreciates the sense of professionalism displayed by other graduate students and how everyone in his classes is refining what they've learned.
Hoping to stay in New York after earning his masters' degree, Stephen is prepared to move out of state if need be because he is committed to pursuing a career in teaching. "I like having made an impact. Teaching lets me make a difference in school districts and in the community."