Our Champions
Khalia Brown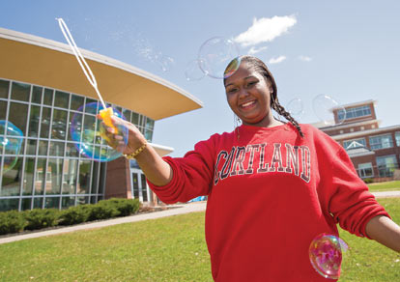 "Honestly, Cortland has taught me that there are so many opportunities out there. So many more than I ever could have imagined."
Some might say it's easier for Khalia to list the student groups with which she is not involved rather than the ones she represents, simply because she's a part of so many.
"I just love the idea of being involved and taking advantages of resources on campus," Khalia says. "For a lot of people, the best opportunity to try a little bit of everything is when they're in college."
Khalia, a member of SUNY Cortland's Educational Opportunity Program, shines as an example of that. When she arrived on campus from her Brooklyn home, a study abroad experience seemed far off her radar. Yet an academic summer trip to Ghana turned into a reality three years down the road, thanks in part to the help of a faculty member and her financial aid advisor. She toured African tombs and gold mines, befriending more than a dozen other students who also made the trip.
"Never did I think I could do something like that," Khalia says.
And just as she has discovered many different outlets on campus for her interests and energy, Khalia envisions herself moving in several possible directions with her communication studies degree. Some days, she plans on taking her people skills to a public relations firm. She also sees the marketability of pairing a speech and hearing sciences minor with her love for sign language. Then there's the power of her singing voice, which surely could land performance jobs along the way.
"Honestly, Cortland has taught me that there are so many opportunities out there," Khalia says. "So many more than I ever could have imagined."