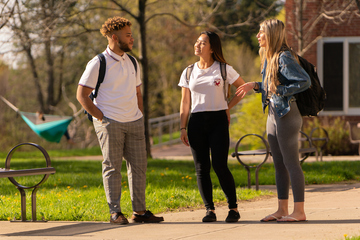 08/25/2020

Prospective students and their families often have simple goals when it comes to picking a college.
They want a school that offers an affordable, quality education that leads to positive career outcomes.
SUNY Cortland has delivered on that promise for more than 150 years, and a respected national survey agrees. Money.com recently ranked SUNY Cortland No. 107 in the nation on its annual "Best Colleges for your Money 2020" study, once again placing it among the top 5% of U.S. colleges and universities.
For the third consecutive year, Cortland was the highest-ranked of SUNY's comprehensive colleges on Money's list. The university moved up 34 places in the ranking, from No. 141 in the nation in 2019.
"There's a reason why SUNY Cortland consistently ranks so highly in measurements of educational excellence and value," President Erik J. Bitterbaum said. "It's because that's who we are: An institution historically committed to providing a positive, life-changing education at an affordable cost."
The study combines data on 27 factors split across three weighted categories: affordability (40%), quality of education (30%) and outcomes (30%). Among the factors considered are: six-year graduation rate, instructor quality, Pell Grant recipient outcomes, net price of a degree, ability to repay debt, career earnings and socio-economic mobility index.
The university was lauded for its commitment to academics and athletics alike on Money's college ranking website. "The school has one of the top education departments in the SUNY systems, and, not surprisingly, fitness-related majors such as athletic training, exercise science and fitness development are popular, as are majors in the Recreation, Parks and Leisure Studies Department," Money observed of SUNY Cortland.
SUNY Cortland's inclusion on the "Best Colleges for your Money 2020" ranking was the latest of many national and statewide recognition for the university.
Money creates its rankings by examining approximately all 2,400 colleges and universities in the U.S. and disqualifying those with fewer than 500 students, those with unreliable data, those in financial distress and those that have a graduation rate below the median in their institutional category. Those cuts leave 739 American colleges to rank.
---