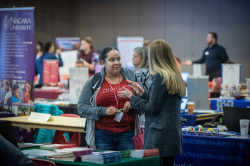 07/21/2020

SUNY Cortland was recently ranked No. 1 in New York state and No. 5 in the nation on a list of "Best Public College in Each State for Getting a Job in 2020," by Zippia.com, a national career resource website.
"SUNY Cortland takes pride in its ability to helps students gain experience and learn the skills necessary to land the jobs they want after they graduate," President Erik J. Bitterbaum said. "We're not just providing education. We're preparing students to succeed in a rapidly changing world filled with challenges."
Zippia used Department of Education College Scorecard data to search for the public college in each state with the highest listed job placement numbers 10 years after graduation. It excluded institutions that did not provide this data. The study focused mostly on four-year colleges, but included a select number of two-year schools.
Nan Pasquarello, director of Career Services, cites three key reasons for the success of SUNY Cortland graduates in the job market: academic preparation, the development of career readiness competencies and a partnership with the digital networking platform Handshake.
The instruction students receive from faculty in the classroom is key to preparing them for careers. Many students also get valuable experience through internships, part-time employment, study abroad opportunities and co-curricular activities.
In addition to academics, employers highly value a set of skills that are defined by the National Association of Colleges and Employers as "career readiness competencies." SUNY Cortland faculty and staff work with students to develop these characteristics through classes and hands-on learning experiences.
"Research shows that students who develop career readiness competencies are sought after by employers," Pasquarello said. "Problem solving abilities, effective communication skills, digital and technology expertise, teamwork, leadership, intercultural fluency and professionalism are in great demand. SUNY Cortland students and alumni develop these skills and Career Services staff members help students and alumni articulate their skills and abilities to plan for their futures."
Having access to a network of employers is vital for students and recent graduates in seeking employment. Handshake, a digital platform open to both current students and alumni, allows them to connect to customized internship and job opportunities, find other students and learn about their employers and set up appointments with Career Services staff, among many other options.
To learn more and set up a Handshake account, visit Career Services' Handshake website.
As the COVID-19 pandemic has drastically changed the job market, Pasquarello encourages students and young alumni to make use of Handshake and connect with Career Services staff.
"Recent graduates and young alumni are facing a tough job market in light of the global pandemic," Pasquarello said. "Career Services is networking with employers who continue to hire. We offer our services to students and alumni before and after graduation and encourage alumni to login to Handshake, attend online workshops and events and make an appointment for career assistance."
The Career Services website offers many resources, including information on career planning, student employment and detailed graduate outcome data.
SUNY Cortland was ranked No. 4 in New York in Zippia's 2019 study of "Best Colleges for Jobs in New York for 2019," a ranking that included private universities.
---