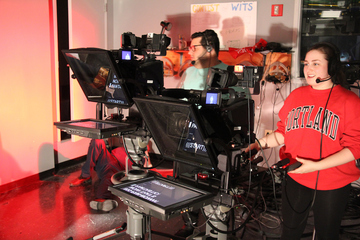 11/05/2019

Students pursuing careers in television, film, public relations, advertising and just about any other field related to communications are finding great educational value at SUNY Cortland.
That's reflected in a recent assessment by Zippia.com that ranked SUNY Cortland at No. 3 in New York state on its list of "Best Colleges for Communication Majors." Cortland was the highest-rated of SUNY's comprehensive college in the study by Zippia, a website that helps people find careers.
It's not the first time that SUNY Cortland's Communications and Media Studies Department was highlighted for excellent career preparation. It was ranked No. 20 in the nation on CollegeFactual.com's "Best Communication and Media Studies Colleges for the Money" earlier this year.
"SUNY Cortland is a great place to build a foundation in this field," said Paul van der Veur, chair of the Communication and Media Studies Department. "We have award-winning teaching and research faculty who pride themselves on being available to students and who excel at ensuring that students leave their classes with the knowledge and skills they need to succeed,"
The department offers three majors: cinema study, communication studies and new communication media. Coursework varies from broad-based human communication and popular culture to specialized programming in journalism, public relations, advertising and media production. Students have access to a robust equipment checkout program that allows them state-of-the-art tools to produce content for everything from social media to film and video.
Production facilities and campus media including the student newspaper and television and radio stations give students hands-on experience. Student media clubs and internship programs offer job-related knowledge and skills and help students meet others with similar academic interests.
The Zippia study examined data from the National Center for Education Statistics and College Scorecard from the U.S. Department of Education. Zippia based its rankings on a number of factors, including career results, each campus' communication emphasis and general school performance figures including admissions rate, graduation rate and average cost of attendance.
---