Sport Management Club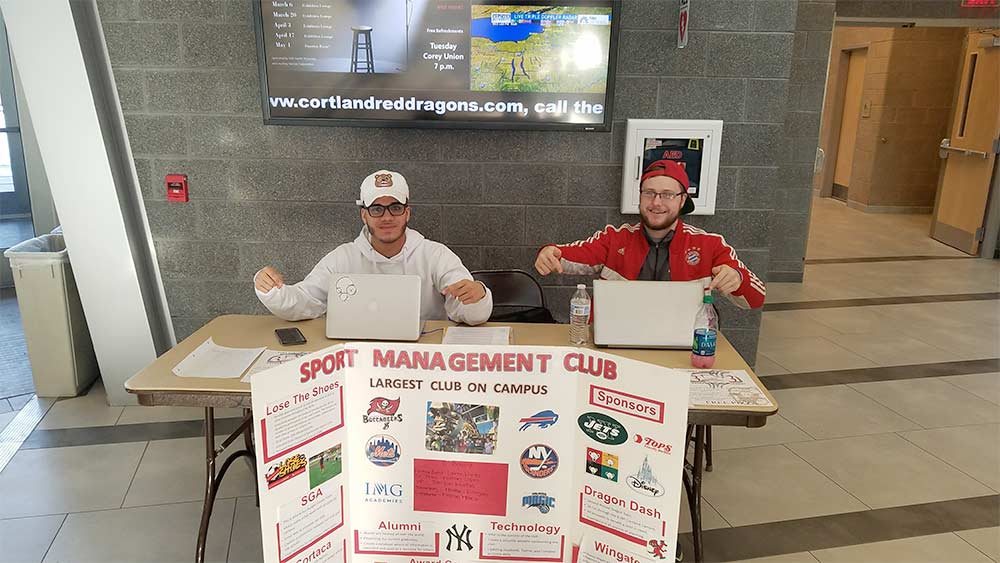 The Sport Management Club at the State University of New York College at Cortland is comprised of sport management majors and minors and is the largest student-run club on campus. Supported by the Cortland Student Government Association, the Cortland Sport Management Club provides students with unique opportunities to work at and run sports-related events, travel on educational field trips to sports venues, hear from guest speakers who work in the sport business world, and gain additional valuable industry experience with their peers.
The Cortland Sport Management Club runs numerous campus-wide events during the academic year. In the past these events have included eSports tournaments, 3 vs. 3 basketball tournaments, dodgeball tournaments, raffle nights, and the annual end-of-the-year awards ceremony.
C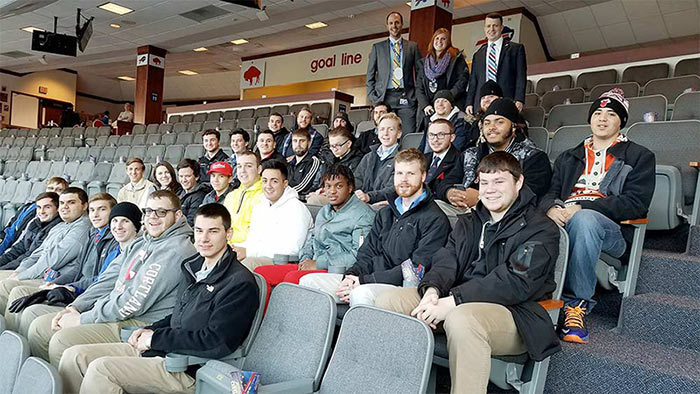 lub members have traveled to New York, Buffalo, Boston, Toronto, Syracuse, Rochester and Cooperstown for behind-the-scenes tours of sport facilities. To encourage and provide students an opportunity to interact in a social environment, the club hosts guest speakers from the department advisory board, Cortland alumni, and professionals within the sport industry.
Sport Management Club Officers
2022
President: Michael Bruck
Vice President: Declan MacDevitt
Secretary: Maddie Holmberg
Treasurer: Bryce Carroll
Event Manager: Garrett Aadal
SGA Representative: Nick Terry
Social Media Manager: Nate Matteson
Faculty Advisors: Professors Han and Seyfried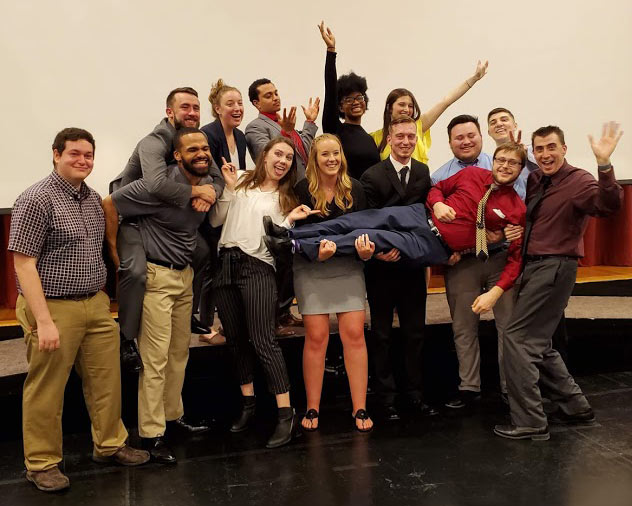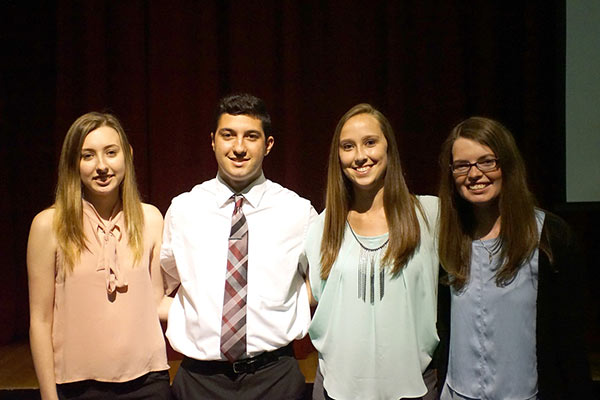 Cortland Sport Management Awards Ceremony Keynote Speakers
2020 and 2021 - Canceled due to the COVID-19 pandemic
2019 - Michael Huyghue, lawyer, former commissioner of the UFL, former Vice President Detroit Lions and Jacksonville Jaguars, and sports agent
2018 - Sean Stellato, sports agent, Stellato Sports
2017 - Eric Reinhardt, United States Golf Association (USGA)
2016 - Mitch Reynolds, Football Operations Manager, Kansas City Chiefs
2015 - Katie Keenan (NFL), Tyrel Kirkham (Brooklyn Nets & Barclay's Center), Kotaro Okada (JIJI Press), Gerry Tschinkel (Hunter Mountain), and Kaylin VanDusen (ESPN)
2014 - Ellen Zavian, Professor, George Washington University
2013 - Bob Hurley
2012 - Matt Crevin, President of Voice of the Box
2011 - Brian Holloway
2010 - Awista Ayub, Author and Founder of the Afghan Youth Sports Exchange
2009 - Ethan Zohn, Winner of CBS television series Survivor: Africa and co-founder of Grassroot Soccer
2008 - Anucha Browne Sanders, Former Executive for the New York Knicks of the NBA
2007 - Mike Veeck, author, owner of several minor league baseball franchises and son of legendary sport owner and marketer Bill Veeck
2006 - Val Ackerman, president of USA Basketball and first president of the Women's National Basketball Association (WNBA)
2005 - Richard Pound, former vice president of the International Olympic Committee and president of the World Anti-Doping Agency (WADA)
2004 - Dr. Donna Lopiano, executive director of the Women's Sports Foundation
2003 - Mark Murphy, president, Green Bay Packers and former player, Washington Redskins
2002 - Andre Taylor, sport business entrepreneur and consultant
2001 - Steve Tasker, television analyst and former player, Buffalo Bills