Sport Management Department Advisory Board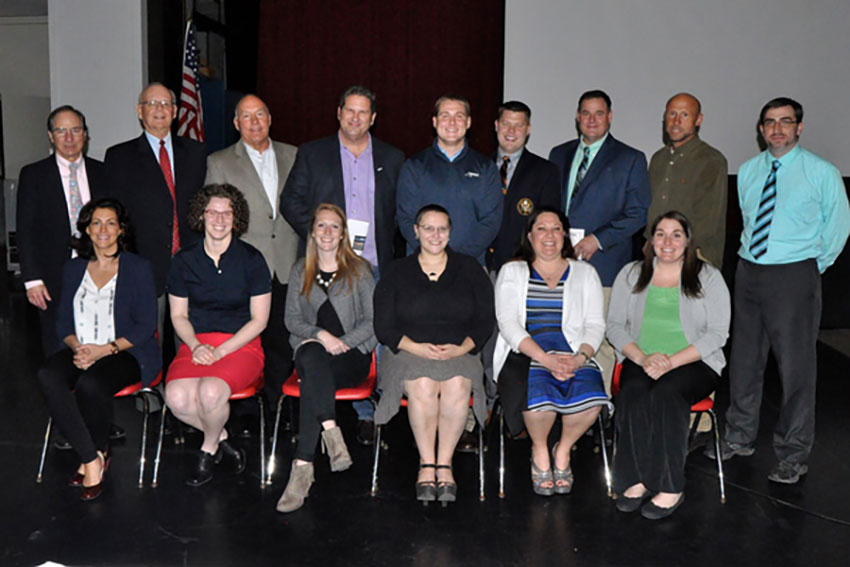 In accordance with the mission of the Sport Management Department, the Advisory Board is committed to preparing students for professional employment at all levels of the sport industry (amateur and professional, non-profit and for-profit). By establishing connections with practitioners in areas of expertise relevant to the needs of the student body, the practice-theory-practice model to which the department subscribes can be enhanced through meaningful conversation with the advisory board. The advisory board assists the department and the student body in the areas of mentorship, curriculum input, guest speakers and visits to campus, supporting student research, supporting international students, and connecting students with internship opportunities.
The advisory board meets on campus a minimum of once per year and are available for consultations.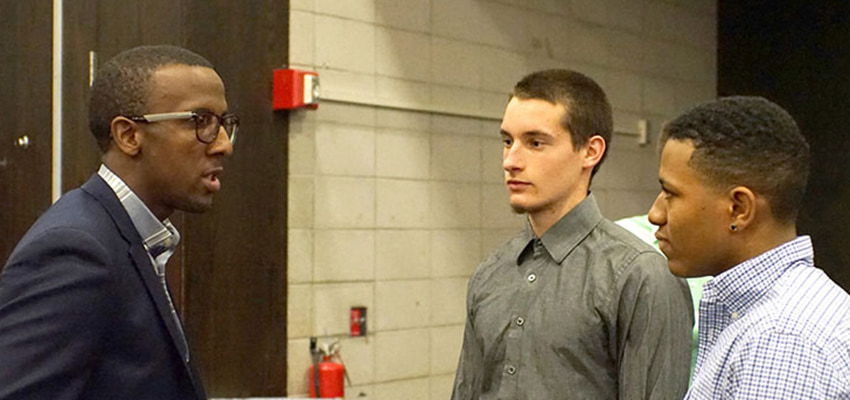 Advisory Board Members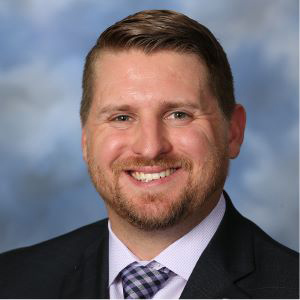 David Aitken
Title: Director of Ticket Sales
Company: Rochester Americans and Rochester Knighthawks
Email: david.aitken@bluecrossarena.com
David Aitken LinkedIn
David Aitken is the Director of Ticket Sales for the Rochester Americans (AHL) and Rochester Knighthawks (NLL) having joined the organization in March of 2019. In this role, he coordinates and manages the Ticket Sales strategy for the Rochester Americans (AHL) and Rochester Knighthawks (NLL) and serves as team leader for the Ticket Sales department and staff. David oversees the sales, service, and retention of all ticket-related packages for the two teams, as well as all training, goal-setting, and budgeting of the Ticket Sales staff.
Before coming to work in Rochester, David spent eight seasons with the Cleveland Monsters (AHL) as part of the Cleveland Cavaliers (NBA) organization. David started his career in the sports industry after graduating from SUNY Cortland in May of 2011 with a degree in Sport Management. Having first starting with the Monsters as an Inside Sales representative, David eventually grew to the role of Senior Manager of New Business Development where he led all new business ticket sales efforts, as well as managed a senior level team of ticket representatives. During his time with the Monsters he was also in charge of all youth hockey game-day programming and community outreach efforts for six seasons and led the organization in the founding of the Monsters' "Grow the Game" and Learn to Play initiatives in Northeast Ohio.
David's tenure in Cleveland was highlighted by placing among the AHL's top 10 in group sales for five seasons and generated the most group sales in franchise history in the 2015-16 season. He was also part of the 2016 Calder Cup champion Lake Erie Monsters staff which won the AHL's President's Award for Business Team of the Year.

Mike Alperstein
Title: General Manager
Company: Banc of California Stadium
Email: michael.alperstein@LAFC.com
Mike Alperstein LinkedIn
In 2019, Mike left the East Coast for the sun of California, where he currently is the general manager of the Banc of California Stadium, home of Los Angeles FC of MLS and Angel City FC of the NWSL. The stadium also hosts CONCACAF Gold Cup matches, boxing events, lacrosse events, eSport competitions, concerts, and much more
Mike Alperstein '04, formerly worked at MetLife Stadium in New Jersey. Mike worked at MetLife for nearly 10 years, starting with the stadium's inaugural season in 2010. During those ten years, Mike has had the opportunity to work many high profile events including NY Jets and Giants' home games, Super Bowl XLVII, Wrestlemania 29 & 35, COPA Centenario, and numerous concerts from many of today's top artists. Prior to working at MetLife Stadium, Mike spent five years working with the Jets in their Events and Game Day Operations Department. In 2009, Mike had the fortunate opportunity to return to Cortland with the Jets, when the team moved their training camp location to SUNY Cortland's campus. During his time at Cortland, Mike was an Event Manager for Cortland's Athletic Department. He credits this opportunity and his Cortland Sport Management degree with preparing him for his career.
Bryan Cipolla
Title: Specialist, Regulatory Operations
Company: Draft Kings
Email: bcipolla33@gmail.com
Bryan Cipolla Linkedin
Bryan Cipolla, Esq., '12, is a Regulatory Operations Specialist for DraftKings Inc. In his role as a Regulatory Operations Specialist, Bryan assists in new state launches and continuing compliance in all jurisdictions where DraftKings offers Sports Wagering, iGaming and Daily Fantasy Sports. Following his undergraduate studies at SUNY Cortland, Bryan attended Fordham University School of Law, graduating in 2019 with a Juris Doctor degree. While in law school, Bryan was a key contributor to the Fordham Sports Law Forum where he acted as a coach for the Sports Law Forum's Mock Major League Baseball (MLB) Arbitration Team which went on to compete in a national competition. Following completion of law school, Bryan passed the New York State Bar Exam and was admitted as an attorney in the State of New York.
Prior to joining DraftKings in the Fall of 2020, Bryan worked as a transactional attorney in the practice areas of, Real Estate, Estate Planning, Sport Law and Corporate Law. Additionally, for the four (4) years prior to joining DraftKings, Bryan was a legal assistant at Excalibur Sports, Inc. where he assisted in representing Major League Baseball franchises in the Salary Arbitration process. Bryan assisted in the creation and preparation of rebuttal materials for the salary arbitration team that successfully argued multiple salary arbitration hearings on behalf of the Cincinnati Reds, Oakland Athletics, Miami Marlins, Philadelphia Phillies, Los Angeles Angels and the Minnesota Twins. Bryan was first introduced to the MLB salary arbitration process during his time as a Labor Relations Legal Intern at the Office of the Commissioner for Major League Baseball.
Bryan has always been passionate about the sports industry and credits his studies in the SUNY Cortland Sports Management program as what drove him into a career in the industry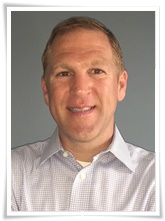 Matthew Coats
Title: Associate Director of Athletics for Intercollegiate Operations
Company: Cornell University
Email: mc328@cornell.edu
Matt Coats LinkedIn
Matt Coats is the Associate Director of Athletics for Intercollegiate Operations at Cornell University. He oversees the management of athletic facilities, contest scheduling, game contracts, and all home athletic events. He serves as the primary administrator for baseball, equestrian, fencing, gymnastics, men's and women's polo, men's and women's soccer, and sprint football. Matt first arrived at Cornell in 2001 as the Athletic Operations Manager until 2005 when he was named Assistant Director of Athletics for Intercollegiate Operations and then promoted to his current role as Associate Director of Athletics for Intercollegiate Operations in 2014. Additionally, Matt serves on the Board of Directors for the Cortland YMCA.
Matt earned his bachelor's degree in Physical Education with a concentration in Sport Management from SUNY Cortland in 1997 and completed a Master of Business Administration concentrating in Marketing from Wagner College in 2000. Matt resides in Cortland with his wife, Johanna, and their two children.
Kathryn Coneys
Title: Event Management & Olympic Facility Director
Company: The University of Notre Dame
Email: kconeys@nd.edu
Kathryn Coneys LinkedIn
Growing up in upstate New York, I spent most of my life playing every sport imaginable. As you can imagine, I thought I was going to be the next Billie Jean King! When reality hit and I was trying to come to grips with not being able to make a career out of playing sports I thought I might be able to make a career in the Sports Medicine field, turns out I was very good at that either. After taking a few Sport Management classes at Cortland I quickly fell in love with event operations and have been working in the field ever since. I took an internship for credit at The University Notre Dame in the Fall of '07 in Event Management, eventually made some money (which I am sure my parents were thankful for!) and have enjoyed and learned from almost every second of it!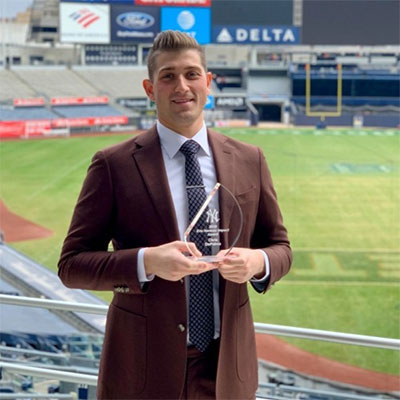 Christopher DePalma
Title: Account Executive
Company: New York Yankees
Email: cdepalma@yankees.com
Chrisopher DePalma LinkedIn
Chris is a native New Yorker from Hopewell Junction, NY. He graduated from SUNY Cortland as President of the Sport Management Club with a B.S, in Sport Management & Minor in Economics. He later completed his MPS at Georgetown University. Chris is currently a Retention Sales Specialist on the New York Yankees' Season Ticket Retention team. Prior to that, he was a member of the Season Ticket Sales & Service and Inside Sales teams and spent a year working for the Yankees in a part-time sales role. Chris has a six year record of demonstrated success in professional sports, driving multimillion-dollar revenue growth, while providing sales leadership in a competitive market. He is a proven leader with passion for mentoring & developing the next generation of leaders."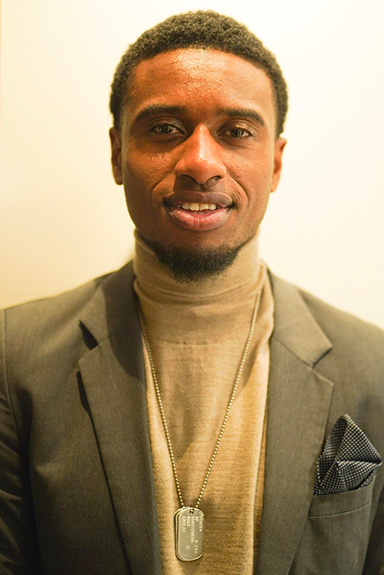 Therno Diallo
Title: Assistant Director, Facilities Operations
Company: Rutgers University
Email: tdiallo@scarletknights.com
Therno Diallo LinkedIn
Therno (pronounced Cheir-no) works at Rutgers University. He was previous with DePauw University near Chicago.
Before coming to DePauw, Diallo served as the C.D. Henry Intern for the Big Ten Conference in Rosemont, Illinois from July 2017 until August 2018. Diallo assisted with the overall planning, preparation, and execution of conference tournaments and championships. He also assisted with youth engagement programming to implement various S.C.O.R.E initiatives.
Diallo has also spent time with the athletic departments at John Jay College, Syracuse University, and SUNY Cortland. He also has experience in coaching, serving as an assistant men's tennis coach at John Jay College in 2016 and assistant football coach at SUNY Cortland in 2015.
He is a member of the Collegiate Event and Facilities Management Association (CEFMA), National Association of Division III Athletic Administrators (NADIIIIAA), and the Minority Opportunities Athletic Association (MOAA), through the National Association of Collegiate Directors of Athletics (NACDA).
A native of Brooklyn, N.Y., Diallo is a 2016 graduate of the State University of New York at Cortland with a bachelor's degree in sports management. He also received his master's in sports administration from Canisius College in May 2018.

Ameena Dye
Title: Senior Account Manager
Company: Riddle & Bloom, a Wasserman Company
Email: adye@teamwass.com
Ameena Dye'sLinkedIn
Ameena formerly worked in client services with Live Nation Entertainment, the world's leading live entertainment company. Ameena works Live Nation's full-service sponsorship team. She is the former sponsorship coordinator for Fenway Sports Management. She has also worked as an Inside Sales Representative at the Boston Red Sox. She completed her Masters in Sports Leadership at Northeastern University and graduated from SUNY Cortland in 2015 as a Communications Major and Sport Management Minor. While at Cortland she was also a member of the cross country and track teams.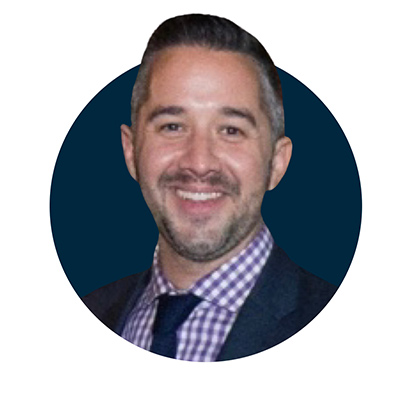 Ian Fettinger
Title: Vice President
Company: Momentum Worldwide
Email: ian.fettinger@gmail.com
Ian Fettinger LinkedIn
Ian Fettinger is an accomplished sports marketing professional with a background in sponsorship activation and experiential brand marketing. Ian graduated from SUNY Cortland in 2005, with a Bachelor's Degree in Sport Management.
After a successful & exciting internship with the 2005 Genesis Invitational, a PGA TOUR event, Ian joined Golf Digest Publications in the summer of 2005 on the Events & Sports Marketing team, creating and executing added-value experiences for blue -chip advertising clients.
After 5 years with Golf Digest, Ian moved into a Sponsorship Management role with Lagardere Sports, overseeing sponsorship activations for Hoop it Up 3x3 Basketball. In this role, Ian created & implemented a sponsorship playbook for the tour's national sponsors, ensuring a high level of activation performance and brand consistency across the various regions.
Ian joined the globally-known experiential agency, Momentum Worldwide in 2012, where he currently serves as Vice President, Director, Business Leadership. Ian oversees sports sponsorships & activations for Momentum's American Express, SAP and Subway clients, in addition to contributing to new-business pitches. During his time at Momentum, Ian has led work for American Express that has resulted in more than 20 industry awards, including Clio Sports, Event Marketer and Cannes Lion awards.
Ian currently resides in Lindenhurst, NY, with his wife and daughter.
Tom Gallagher
Title: Chair of Board of Trustees
Company: SUNY Cortland
Email: tgallagher1@twcny.rr.com
Business Owner - Pepsi Cola Distribution; Executive Director - Cortland County Chamber; Former Mayor - City of Cortland; President - The Cortland Community Foundation
Ken Hammond
Title: Owner & Race Director
Company: Ironman & InStride Sports
Email: Ken@instridesports.com
Ken Hammond LinkedIn
Ken Hammond, 07, is currently the race director for IRONMAN 70.3 Ohio and IRONMAN 70.3 Musselman. He started this path as an intern at World Triathlon Corp while still a student at SUNY Cortland. After a few years as Assistant Marketing Manager at Fleet Feet Sports in Syracuse, Ken rejoined the event world in 2010. In 2011 he was race director of IRONMAN 70.3 Syracuse and was so until it was discontinued in 2018. In that time he has also race directed four Iron Girl triathlons and started the IRONMAN 70.3 Ohio in 2016. I
n 2013 Ken also started InStride Sports an event company based out of Syracuse. Here he has produced upwards of seven races a year ranging from Snowshoe races, trail runs, Triathlons and Cyclocross races. Unlike his career with WTC, InStride Sports is A family owned and operated company completely run out of his home office.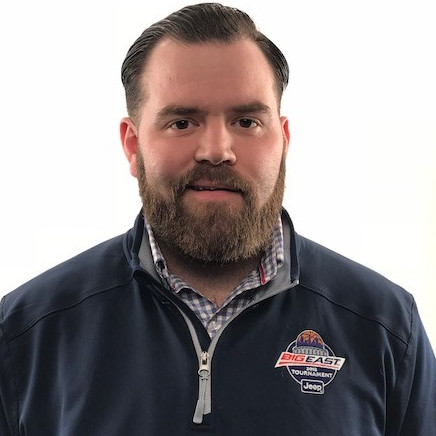 Tim Holder
Title: Group Sales Account Executive
Company: Madison Square Garden
Email: tim.holder@msg.com
Tim Holder LinkedIn
Tim graduated with a degree in Sports Management from SUNY Cortland in 2011. During his years at Cortland, he was an active member of the Sport Management Club and 4 year player on the Club Baseball team, including being Vice President his Senior year.He got his start in the sports world as an Intern following his senior year with the New York Mets as a Ticket Sales & Services Intern. He eventually started his career with the Staten Island Yankees, in their Ticket Sales Department with a primary focus on group ticket sale.
Tim then made his way to the world's most famous arena, Madison Square Garden in 2015. He started as a Group Sales Specialist and is currently a Group Sales Account Executive. His prime responsibilities include handling group sales and hospitality packages for the New York Knicks, New York Rangers, Radio City Christmas Spectacular & other sporting events.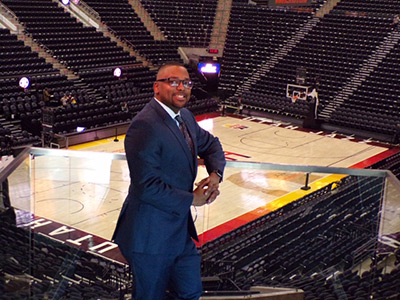 Donte Hewlett
Title: Assistant Director of Operations (Concessions)
Company: Levy Restaurants
Email: dhewlett@Levyrestaurants.com
Donte Hewlett LinkedIn
Donte Hewlett is a native New Yorker. He studied Sport Management receiving both a Bachelor of Science and a Master's Degree from SUNY Cortland. Donte's greatest passion is mentoring Sports Management students from various colleges and Universities via Skype and on campus visits. In New York and Las Vegas, Donte honed his skills in Minor League AAA and independent baseball as a concession manager. Donte joined the Levy team in August 2016 as the General Manager of Concession at American Airlines Center in Dallas (Dallas Mavericks and Stars). Just a few short months later, Donte was promoted to Director of Concessions in Salt Lake City at Vivint Smart Home Arena (Utah Jazz). He spent one full season with the Salted Honey Hospitality Jazz team before making the move back east to be the Assistant Director of Operations in Concessions for Levy Restaurants based at FedEx Field, home of the Washington Football Team.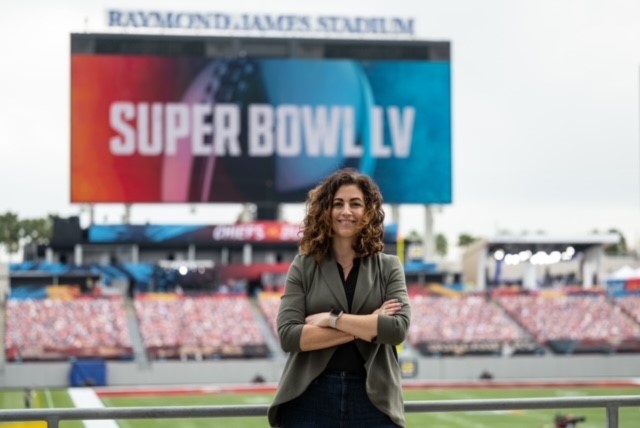 Katie Keenan
Title: Senior Director, Event Operations
Company: National Football League (NFL)
Email: katie.keenan@nfl.com
Katie Keenan LinkedIn
Katie Keenan is a passionate, seasoned sports and entertainment event professional specializing in large-scale event operations and project management with 13+ years of experience at industry-leading organizations.
In her role as Director of Event Operations at the National Football League, Katie oversees planning and execution of the league's tentpole events. As a proven leader in the Events Department, she serves as Event Director for the NFL Draft Red Carpet, NFL Kickoff concert and fan experience, NFL Mexico Game, Pro Bowl stadium operations and Super Bowl accreditation, access control and staff logistics. Katie specializes in leading cross-functional teams to deliver events at the highest level in high pressure situations. She strives to make each event better than the last and credits consistent dialogue with and feedback from fans, partners, vendors, part-time staff and colleagues as the key to her success.
Katie started at the NFL in 2012 as Manager, Event Operations and Accreditation tasked with orchestrating an overhaul of the league's antiquated Super Bowl Accreditation process. Katie did so successfully, implementing industry leading RFID technology to enhance user experience and overall efficiency of the printing and distribution of over 40,000 credentials.
Prior to joining the NFL, Katie was part of the team that opened the state-of-the-art Prudential Center arena in Newark, NJ, serving as its first Special Event Coordinator and then as an Event Manager from 2007 to 2012. Katie spent her time at the arena developing the event program, executing events, and learning from very talented people. Along with the usual slate of hockey games, family shows, concerts and special events, the arena added the New Jersey Nets in 2010 and the New York Liberty in 2011. The venue also hosted a variety of large-scale special events including the 2011 NCAA Division I Men's Basketball East Regional, 2011 NBA Draft and the 2012 Stanley Cup Finals.
Katie started her career completing internships with the National Hockey League and International Paralympic Committee, followed by a short stint in ticket sales with the New Jersey Devils.
Katie graduated SUNY Cortland with a Master's and Bachelor's degree in Sport Management in 2010, and 2005 respectively.
Tyrel Kirkham
Title: Vice President, Brand & Marketing Strategy
Company: Detroit Pistons
Email: tkirkham@pistons.com
Tyrel Kirkham LinkedInFormerly the Vice President of Global Merchandising for the Brooklyn Nets and Barclays Center, Tyrel recently joined the Los Angles Rams to oversee all of the team's merchandise-related operation.
Prior to joining the Nets, Tyrel was a mainstay in the New York Mets organization. Starting as an intern in 2004, he worked his way up to Director of Venue Services, in which he oversaw all elements of the team's merchandising and promotions operation. Tyrel currently resides in Long Island City, NY.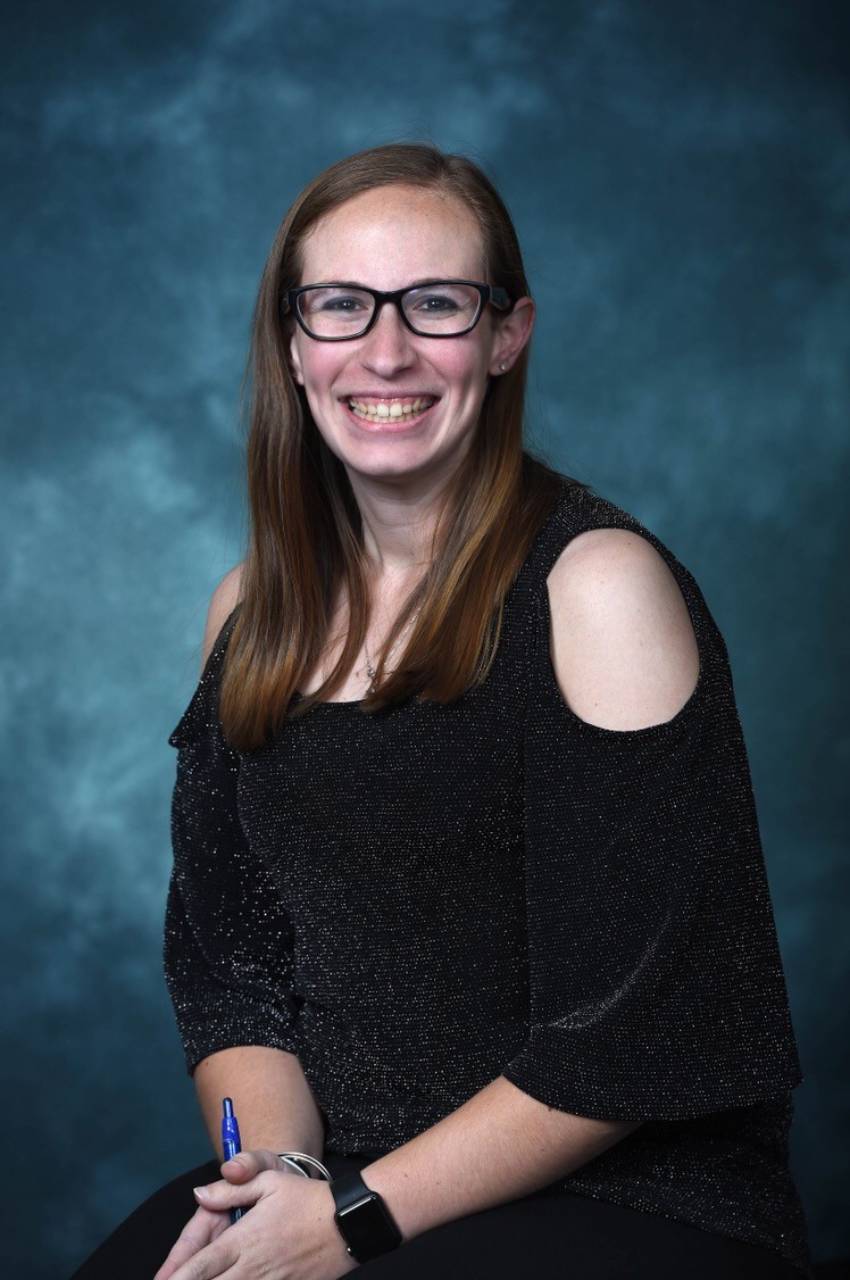 Blaire Mershon
Title: Manager, Sub-Licensees and Sub-Manufacturers
Company: Fanatics
Email: blaire.mershon@gmail.com
Blaire Mershon LinkedIn
Blaire Mershon graduated with her Bachelors of Science in Sport Management from SUNY Cortland in 2013, and with her MBA with a concentration in Sport Management in 2020. During her time at Cortland, she was an active member of the Sport Management Club (Vice President, Award Ceremony Chair), and worked for the football team as their Director of Operations, assisting with all things related to the itinerary. After graduating from Cortland, Blaire spent 5 years at Major League Baseball Players Association, serving in its licensing division in various roles, but left the MLBPA as the Business Affairs Operations Manager. She also had a short stint at the PGA TOUR as a Licensing Manager. Today, Blaire has taken her expertise to perhaps the biggest player in sport licensed products, Fanatics, where she is the Manager, Sub-licensees and Sub-manufacturers, after spending 2 years as the Go To Market/Brand Manager for MLB Apparel. Her day to day responsibilities include serving as the primary contact for Fanatics sublicensee relationships and acts as liaison between their external partners and the Fanatics internal teams. She also works with these contacts on working their business plans and forecasting models, contractual obligations, brand standards, product reviews and more.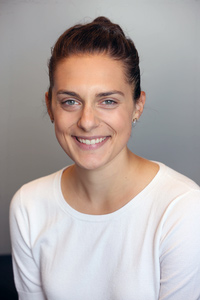 Olivia Messineo
Title: Account Executive
Company: Hendrick Motorsports
Email: osmessin@gmail.com
Olivia Messineo LinkedIn
Olivia graduated from Cortland's Sport Management Master's program in 2018. She serves the board as a "Young Alumni Associate." She spent three and half years working in digital media, driver, and team marketing for NASCAR before taking her current job as a marketing account executive with Hendrick Motorsports. She is a former D1 tennis player who enjoys fitness and prompt replies to emails.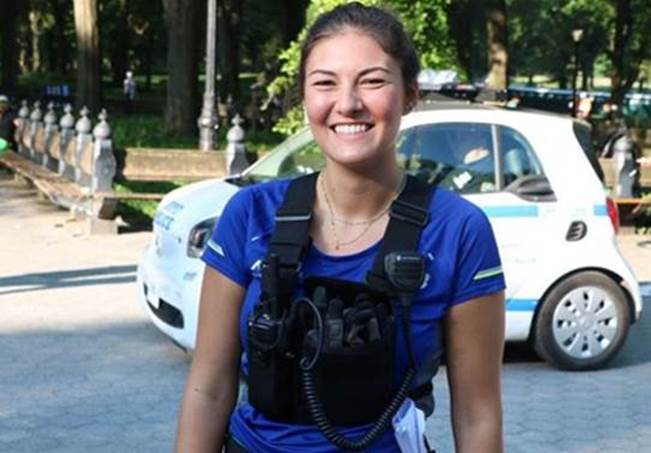 Alexandra Proulx
Title: Safe Sport & Education Coordinator
Company: Speed Skating Canada
Email:
Alexandra Proulx LinkedIn
As a native of QC., Canada, and a SUNY Cortland 2018 Graduate, Alex has been working in the sporting event industry since 2016 for different international organizations. She is the board's other "Young Alumni Associate." Prior to her time at the New York Road Runners (NYRR), Alex joined the Grand Prix Cycliste de Quebec et Montreal, a company tasked with hosting two UCI WorldTour sanctioned events in 2016 in the role of Event Coordinator. In 2018, following her experience with the GPCQM and three years of leading and developing the SUNY Cortland Sport Management TCS New York City Marathon student volunteer program, Alex joined the New York Road Runners as a Volunteer Operations intern in the Event Development and Production department. Following her internship with the New York Road Runners she accepted a position in the Event Development and Production department as an Event Staffing and Training Coordinator. In her last two years at NYRR Alex has been tasked with staffing over 150 adult and youth running events including the biggest marathon in the world that was the 2019 TCS New York City Marathon. Some of Alex's additional duties include recruitment/hiring, workforce training, workforce management, logistics implementation, apparel management, as well as large-scale event operations and accreditation. Alex is continuously looking for ways to drive the sport industry forward.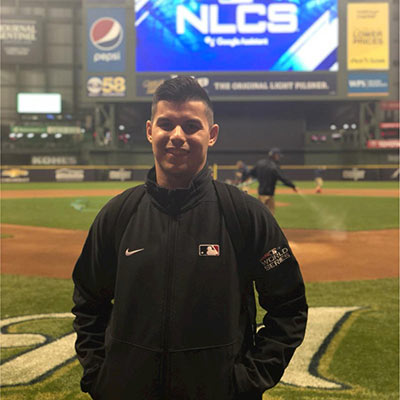 Javier Roman
Title: Latino Club Marketing, Senior Coordinator
Company: Major League Baseball
Javier Roman LinkedIn
Originally from Arecibo, Puerto Rico, I have been working in sports since 2010, starting with ESPN PR Tip-Off (NCAA College Basketball) and FIBA Americas regional tournaments in Puerto Rico. I was a student-athlete for at the University of Puerto Rico in Arecibo (2008-2012) where I got my Bachelor's Degree in Business Administration in Management. I graduated in 2014 from SUNY Cortland with a Master's Degree in International Sport Management, where I started as an intern for Perth Heat in the Australian Baseball League.

In 2015, I worked with Criollos de Caguas in the Puerto Rico Winter League, where I was an intern and worked team's In-game promotions, Marketing, and Community Relations.
In 2016, I moved to Phoenix, Arizona to work with Arizona Diamondbacks as an intern in Hispanic Marketing, where I worked as a translator and worked with the team's marketing in the Hispanic community. I also worked with the team's and MLB's spanish language social media accounts.

Currently, I work for the Office of the Commissioner of MLB, as the Senior Coordinator of Latino Club Marketing. In that role I collaborate on innovate social media projects to promote engagement and grow the fan base of all 30 clubs. I have been fortunate enough to work in events like the World Baseball Classic, Hispanic Heritage Month, Spring Training, and MLB's postseason, including World Series.
Javier Roman Interview
Rob Rademacher
Title: Executive Senior Associate Athletic Director | Chief Operating Officer
Company: University of Michigan
Email:
Rod Rademacher LinkedIn
Originally from North Babylon, N.Y., Rob first came to the University of Michigan in 1994 as an intern with the Department of Recreational Sports. He was an Assistant Director of Recreational Sports from 1995-98 before becoming an Athletic Department Facility Manager in 1998, overseeing Schembechler Hall, Oosterbaan Fieldhouse, Fisher Stadium, Ferry Field and Alumni Field. In 2000, Rademacher was named Director of Facilities for Michigan Athletics, where his responsibilities included all athletic facilities as well as game operations for football, men's basketball and ice hockey. He was shortly promoted to Assistant Athletic Director before being named to Associate Athletic Director of Facilities and Operations in 2010 where he oversaw the day-to-day operations of the Athletic Facility Campus including scheduling, maintenance, event management, new construction and renovations. In 2015, he was promoted to Executive Senior Associate Athletic Director/Chief Operating Officer where the additional responsibilities of IT, Human Resources, and Business Operations were added. Rademacher holds a Bachelor's degree in Physical Education from SUNY-Cortland and a Master's degree in Recreation Administration from the University of North Carolina-Chapel Hill.
Mitch Reynolds
Title: Football Operations Manager
Company: Kansas City Chiefs
Email: mreynolds@chiefs.nfl.com
Mitch Reynolds LinkedIn
Mitch Reynolds has worked for the Kansas City Chiefs since 2011. Some of Reynolds' responsibilities include handling the logistics of team travel, scheduling, and the setup and operation of training camp. Growing up in Buffalo, NY, Reynolds joined the Chiefs after working 10 training camps and one season with the Buffalo Bills in various roles. Along the way, Mitch attended SUNY Cortland for his Bachelor's Degree in Sport Management before receiving his Master's Degree in Sport Administration from Canisius College. In 2013, Reynolds was named NFL Travel Director of the year. Mitch and his wife, Diana, have a daughter named Maya.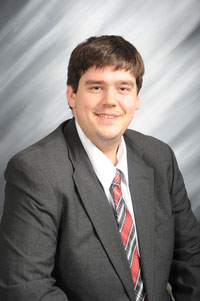 Eddie Saunders
Title: Director of Marketing and Promotions
Company: Binghamton Rumble Ponies
Email: eddie@bingrp.com
Eddie Saunders LinkedIn
Edward Maynard Kennett Saunders is a veteran in Minor League Baseball with the New York Mets Double-A Affiliate, the Binghamton Rumble Ponies. He has worked in a wide array of fields in Minor League Baseball including Marketing, Promotions, Sales, Community Relations, and Ticket Operations. Currently, Edward oversees the Community Relations Department as well as keeping an eye on the Box Office during the baseball season. When this Red Dragon alumnus is away from the ballpark he enjoys spending time with family and making home cooked meals for his family and friends. Saunders cooking skills earned him the title of 1st place in the 2019 Celebrity Spiedies Cooking Competition at the annual Spiedie Fest and Balloon Rally.
Dan Thompson
Title: Director of Marketing & Partnerships
Company: New York State Golf Association
Email: Dan@nysga.org
Dan Thompson LinkedIn
In his current role with the NYSGA, Dan leads all marketing, communication and sales efforts for the association. Additionally, he acts as the staff person in charge and head official at certain United State Golf Association qualifiers, state championship qualifiers, and other single-day tournaments held throughout each season.
Previously, Dan worked at Hunter Mountain Resort in the Catskill Mountains where he was responsible for an array of marketing, public relations, special events and sales duties for the organization beginning in the Fall of 2015. Dan also interned for the Albany Dutchmen baseball team for three summers in sports media and operations and spent a semester interning in Cornell University's Alumni Affairs & Athletic Development office in 2015.
Dan graduated from SUNY Cortland in 2015, with a Sport Management degree and a minor in Communication Studies. During his years at Cortland, he was involved in a few different organizations on campus including the Sport Management Club, CSTV, Red Dragon Sports Network, Speak Magazine, and the SGA.