News Detail
10/12/2021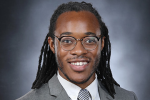 SUNY Cortland has named Cyrenius Weagba Nelson '19 to serve in the newly created position of assistant chief diversity and inclusion officer starting on Dec. 9.
The mission of the Institutional Equity and Inclusion Office is to provide campus-wide leadership and support on matters relating to diversity, equity and inclusion for all members of the SUNY Cortland Community.
Nelson will work closely with and report to Chief Diversity and Inclusion Officer Lorraine Lopez-Janove to implement best practices. He will assist in cultivating and promoting inclusive work and learning environments that encourage and support cultural competency and capacity such as, campus-wide DEI training, multicultural appreciation events and advocacy for faculty, staff, student and/or alumni affinity groups.
In July, Nelson became the acting assistant director to multicultural life and diversity, fulfilling a vacancy within the Division of Student Affairs' Multicultural Life and Diversity Office, which coordinates and facilitates student programming, leadership development and education related to multicultural life, diversity, equity, inclusion, social justice and community building.
Until his acting appointment, Nelson had served the university as a residence hall director after he graduated from SUNY Cortland in 2019 with a bachelor's degree in English.
Nelson said he has chosen to rise in the ranks of diversity, equity and inclusion at his alma mater so he can help build on the foundations that SUNY Cortland already has laid down.
"I think Cortland has done a really awesome job at starting to work towards being a more diverse and equitable campus," Nelson said. "This was a position that offered me an opportunity to be a part of those ongoing changes in really pushing Cortland to be a safe and positive experience for everyone — students, faculty and staff — who are a part of the community."
He is especially pleased with the increased number of clubs and organizations that let students shape their own, diverse college experience.
"I feel like the voices of our students are being listened to more and that's really exciting for me," he said. "They are having more of a hand in creating the experience they want to see here."
This fall Nelson began pursuing a master's degree in social work at Syracuse University.
---