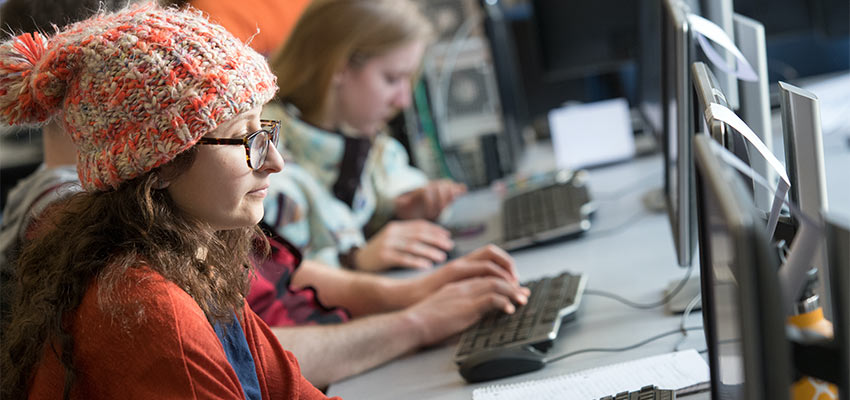 Welcome! The primary mission of the SUNY Cortland Composition Program is to engage students in developing transferable writing knowledge, skills, and processes that they will further refine as they participate in college, the workplace, and the community.
Our Goals
The central focus of the Composition Program is academic writing, which involves reading academic prose and writing analyses, arguments, and inquiries in a variety of genres. In addition, you will learn about writing and how writing works. The work you do in the composition sequence will lead you to new, critical understandings of what happens when you write and how to achieve what you want with your writing.
These goals of the Composition Program are guided through the adoption of the Writing Program Administration (WPA) Outcomes Statement for First-Year Composition 3.0, as well as the SUNY General Education Requirement 10 (GE 10) student learning outcomes. The two required composition courses fulfill the writing portion of General Education 10: Basic Communication.
The Composition Course Sequence
The first course in the sequence, CPN 100: Writing Studies I, introduces students to the practices of analysis and argument as well as other rhetorical strategies and theories writers use as they compose.
The second course in the sequence, CPN 101: Writing Studies II, guides students as they refine their writing skills and stresses theme-based critical inquiry and research into complex topics and issues of public importance.
The Composition Program also offers courses that target specific student interests and needs:
Students have the option to complete the required composition sequence by taking CPN 102: Writing Studies in the Community I and CPN 103: Writing Studies in the Community II. These courses fulfill the same learning goals as the CPN 100/101 sequence with an added service learning component, in which students complete applied learning projects that directly relate to and engage with a specific community.
Students who need extra support with their writing can elect to also register for CPN 104: Writing Workshop I and CPN 105: Writing Workshop II, which are offered as co-requisite courses with CPN 100 and CPN 101. Students take these courses in the same semester as the two-semester sequence, and these courses offer opportunities for small group work, intensive feedback, and mentorship.
Additional Resources
Access samples of student writing from the Composition Program's anchor assignments on SUNY Cortland's Digital Commons website.