Spring 2018 Recognition of Student Staff Accomplishments
The Residence Life and Housing Office would like to recognize the following current staff member for their outstanding accomplishments:
Staff Member

Position & Hall

Accomplishment

Andrew Busch

RA, Smith Tower

Andrew has been accepted into the Australian student teaching program for the fall 2018 semester.

Ashley Evanchof

RA, Smith Tower

Ashley has been accepted to Syracuse University and Arcadia University for her master's program.

Eryn Griep

RA, Smith Tower

Eryn has been accepted into both Binghamton University's Higher Education program and Syracuse University's Higher Education program.

Also, Eryn is a recipient of the SUNY Chancellors Award!

Jenny Linn

RA, Smith Tower

Jenny has been accepted to Nazareth and Buffalo State for her master's program.

Stephanie Mayer

RA, Smith Tower

Stephanie just was hired for an internship for Ruff Riders On Long Island.

Brian Murphy

RA, Hayes Hall

Brian was hired to be a Summer Orientation Assistant

Neve Polius

Past RA, Fitzgerald Hall

Neve recently received a position at SUNY Cobleskill as a Residence Hall Director. She began the position on Monday March 19th.
Written by Kyle Reinhardt, RHD of Dragon Hall; April 2018
Looking for some Halloween fun?
Here are some Halloween programs happening throughout the halls between October 27 and October 31.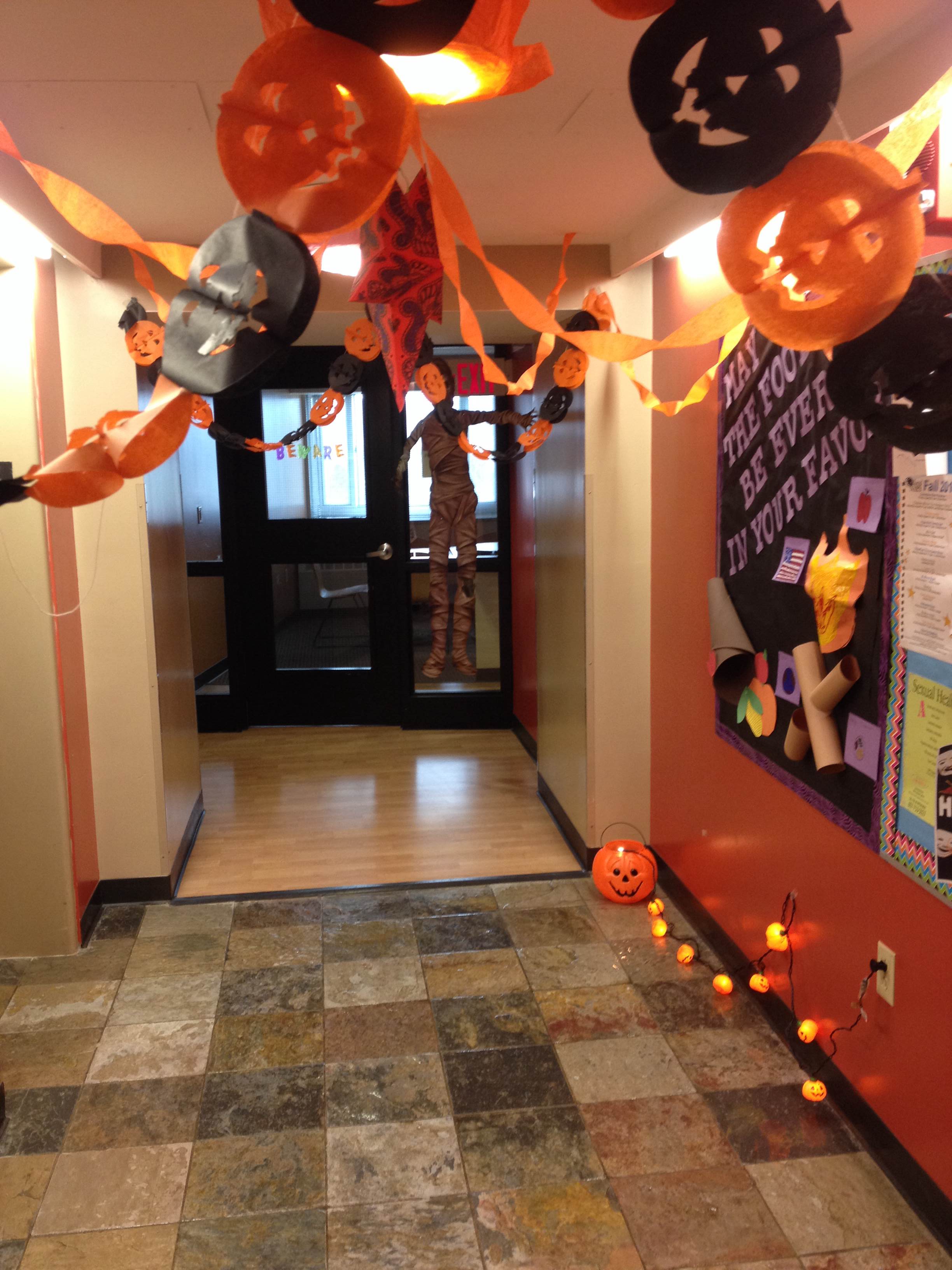 Friday October 27
Fitzgerald Hall's RHCAB will be hosting a scavenger hunt. Pumpkins will be hidden around the hall and students will have the opportunity to win prizes.
Saturday October 28
7 p.m.-10 p.m. Dragon Hall's RHCAB will be hosting "A Dormitory Horror Story", a haunted hallway walk throughout the first floor of Dragon Hall. Admission will cost one dollar and all proceeds will go to Adopt-A-Family.
8 p.m. Alger Hall's RHCAB is holding "Alger Hallow-Rager!" There will be scary movies, a costume contest, lots of food (pizza, popcorn, etc.), and raffles for Cortland apparel. All proceeds for raffle tickets will go towards Adopt-a-Family efforts.
Sunday October 29
6 p.m. Glass Tower Hall will be holding Halloween themed with movies, snacks, and activities.
7:30 p.m. Dragon Hall will be hosting a Harry Potter themed cupcake decorating program called "What Would Harry Do."
Monday October 30
7 p.m. in the Casey/Smith Tower entrance RAs will be distributing candy as well as information regarding Halloween safety tips with regards to drinking and checking candy.
7 p.m. in our first-floor lounge of Hayes Hall RAs will be holding a Halloween themed stress relief program. During this program students will receive mason jars and goodie bags to treat or treat with. After trick or treating the students will be able to decorate their jars and bags.
Monday, October 30 and Tuesday, October 31
RAs will walk around West Campus Apartments giving treats to all the residents.
RAs are having an "IT" Red Balloon Academic Encouragement Program. She will hand out red balloons with academic notes of encouragement and candy around West Campus Apartments.
By Kyle Reinhardt, Residence Hall Director of Dragon Hall; October 2017
Residence Life and Housing Programs for Sexual Assault Awareness
Within the first three weeks of September, several resident assistants from the Residence Life and Housing office held a total of seventeen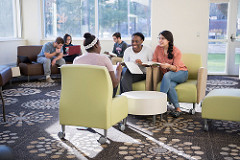 sexual assault awareness programs within the residence halls of SUNY Cortland. A grand total of 371 residents attended the sexual assault awareness programs. The events were held to further help the College's mission to educate students about sexual assault.
The programs were designed to provide students with a better understanding of Title IX and VAWA (Violence Against Women Act) laws, the importance of consent, rape culture and awareness of sexual assault perpetrators. RAs also educated participants on who is required to report sexual assault. Many of the activities put a large emphasis on bystander intervention, which teaches students safe and effective ways to intervene in a situation in order to help prevent a sexual assault. Every hall also provided resources and information cards from SUNY Cortland's Title IX office.
Some highlights of the sexual assault awareness programs includes: In Alger Hall 58 residents joined RAs Kyra Newcombe and Tevin Pham to discuss consent and bystander intervention along with allowing residents to sign the "It's on Us" Pledge. Both West Campus Apartments and Casey Tower supported the "These Hand's Don't Hurt" campaign, which is a campaign centered around preventing domestic violence. RAs of Smith Tower handed out approximately 40 consent goodie bags with candy in them. The piece of paper on the goodie bags gave the definition of consent and how it is defined at SUNY Cortland. These are just a few examples of the excellent events held by each hall.
The Residence Life and Housing office is dedicated to educating the students and residents of SUNY Cortland about sexual assault, bystander intervention, Title IX and VAWA laws. The office will continue to hold sexual assault awareness programs throughout the year in hopes to further educate the student body.
By Kyle Reinhardt, Residence Hall Director of Dragon Hall; September 2017

SUNY Cortland celebrates 40th Annual Residence Life Conference
On February 18, 2017, SUNY Cortland held its 40th annual Residence Life Conference. RAs and residence life
professionals from 14 institutions across New York attended. The theme of the conference, organized by SUNY Cortland's Residence Life and Housing Office, was "Adventure is Out There: Diversity, Direction, Determination, Discovery", with many of the presentations focusing on that theme. The conference offered an opportunity for student staff and professionals to attend presentations and learn from their peers, as well as network and share ideas in regards to residence life at their respective institutions.
In addition to the presentations, a silent auction raffle and series of roll call performances lead to a day full of wonderful experiences and development. The silent auction provided an opportunity for conference attendees to take home themed baskets, apparel from Cortland and other institutions, and gift cards to local establishments in Cortland. All money raised from the auction went to Family Counseling Services of Cortland County. The roll call allowed institutions the opportunity to put on a brief performance highlighting some of the qualities and programs their institutions and Residence Life departments had to offer. All of the entries were fun and educational and Paul Smith's College emerged victorious with SUNY Cortland coming in second place.
The conference was a great success thanks to the hard work and dedication of the Residence Life Conference committee; chaired by residence hall directors Meghan Henley and Melissa Gretzler and comprised of at least one Resident Assistant from each residence hall. The committee started planning in fall semester and handled all of the planning and logistical elements of the conference. If the success of this year's conference was any indication, the 41st Residence Life Conference should be something to look forward to.
By Courtney Andros, Residence Hall Director of Hayes Hall
Residence Life and Housing Provides Safe and Fun Option on Halloween
On October 31, 2016, the SUNY Cortland Residence Life and Housing Office hosted its annual Safe Halloween program. The event, organized this year by the residence hall staff of DeGroat Hall, provides a safe environment for children in the surrounding communities to dress up and trick or treat in each of the residence halls.
This year brought a slight change in the operation of Safe Halloween as the trick-or-treaters stopped by the lounges of each hall instead of walking the whole building to get candy. Each lounge had plenty of candy to go around as well as a fun Halloween-themed activity chosen by the DeGroat Hall staff. In addition to the candy and activities, SUNY Cortland's mascot Blaze as well as Spiderman, Scooby Doo and Captain America were visiting to give out high fives and take pictures with the trick-or-treaters.
The event, which was advertised to schools in Cortland and neighboring communities, was a big success. Many of the residence halls saw large numbers of children who came in with much excitement, fun and creative costumes, and left with big smiles, loads of candy, and some fun Halloween themed crafts.
By Courtney Andros, Residence Hall Director of Hayes Hall
Students and Professionals Learn Sexual Assault Bystander Intervention Techniques
On September 9, 2016, a group of 20 students and professionals participated in training to become members of SHAPE (Sexual Health and Assault Prevention Educators) The training, which is run by Cynthia Lake, Associate Director Residence Life and Housing and Dr. Jena Curtis, Associate Professor Health Department, has been offered for several years and is part of the College's mission to educate students about sexual assault.
During the six hour training, participants learned about understanding rape culture, awareness about sexual assault perpetrators, the impact that sexual assault has on a survivor, and helping skills to know how to support and provide resources should a sexual assault be reported to them. The training also educated participants on who is required to report sexual assault, a review of Title IX and VAWA (Violence Against Women Act) laws as well as bystander intervention techniques should they be in a situation where they could step in to help prevent sexual assault.
The newly trained individuals, along with many others who have been trained in the past have the knowledge and skills to assist with or plan educational initiatives about sexual assault, including speaking to COR 101 classes and participating in any campus wide or residence hall programs. They are also equipped with further knowledge on how to react and respond should someone report sexual assault to them. To date, 396 people have been trained as SHAPE members.
By Courtney Andros, Residence Hall Director of Hayes Hall

SUNY Cortland Welcomes Students with a Successful Opening Weekend
On August 26-28, SUNY Cortland welcomed over 3,000 students into the residence halls. Among those students were 1,300 first-year students, and over 400 first time transfer students. Students were also welcomed into the newly renovated DeGroat Hall, which reopened for occupancy for the first time since its Fall 2015 closure.
Several faculty/staff members, sports teams and on campus organizations were on hand to welcome students and help ensure that the move in process was as efficient as possible. The following faculty and staff members volunteered their time to help make the weekend a great success:
President Erik Bitterbaum
Ellen Burton
Michael Pitaro
Tina Aversano
Helene Schmidt
Robin Wheeler Baroni
Alexis Blavos
AnnaMaria Cirrincione
Linda Foster
Matt Seyfried
Karen Bastedo
Helena Baert.
There were 164 on campus students who returned early and assist with move in as well.
The following on campus organizations and athletic teams also gave their time and effort in assisting with move in: Cross country, field hockey, football, Kappa Sigma, men's soccer, women's rugby, Sigma Gamma Rho, Theta Chi, volleyball, women's golf, women's soccer and women's tennis.
The weekend would not have been possible without the hard work of the residence hall staff. After a week and a half of training and preparation, they were finally able to meet the residents who will shape their communities throughout the year. The staffs spent the weekend checking residents in, troubleshooting, conducting floor meetings and working to get to know students as well as encourage them to participate in Welcome Week activities. It was the beginning of what will hopefully be a successful year for all.
By Courtney Andros, Residence Hall Director of Hayes Hall; September 14, 2016