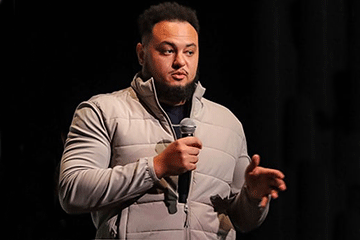 10/25/2022

Kyle Richard '20, who was shot as a student while stopping a rape and became a powerful voice against sexual assault, recently was named associate director of men's engagement for ItsOnUs.org, the nation's largest college-based sexual assault prevention group.
Richard had already been standing on the forefront of sexual violence awareness and prevention among college-age American male athletes, having engaged with more than 10,000 young men across the country as an individual activist.
The former Red Dragons linebacker from Lakeview, N.Y., credits finding his clarion voice as an advocate to his now retired football head coach Dan MacNeill.
"I remember my freshmen year, it was 2015, he was adamant about getting the guys to a Take Back the Night march," Richard said. "We showed up and there were at least 50 guys there.
"It was my first time actually hearing from any survivors of sexual violence. That definitely impacted me. It didn't bring me into the field right away, but it made me think, 'Whoa, what's happening out there? These are real stories.' As a man, especially in my community, you hear about false accusations all the time. But to hear it from survivors, it's definitely something, there's a whole realm out there."
Then, during the summer after Richard's sophomore year, he was shot twice In the legs outside a Long Island party after interrupting a sexual assault. Against the odds, Richard pushed himself through rehab and recovered enough to play that fall season.
And, he discovered he had a platform.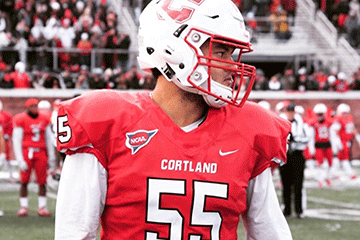 As a college junior, Richard received numerous awards for courage.
His original plan had been to stay on track as and fitness development major who aspired to become a strength and conditioning coach.
Yet there again was Coach Mac, encouraging him to speak up in March 2018, when Richard was presented with a Next Generation Award from Kristin's Fund, an Oneida County charity established in memory of Kristin Palumbo Longo, who was murdered by her husband in 2009 in Deerfield, N.Y.
"MacNeill had submitted my name for the Next Generation Award, and he had told me that my story would resonate with them," Richard said. "At this point, I hadn't even told my story to anyone in depth at all. I did, and afterward, people came up to me and said, you've got to keep on doing this."
An advocate for universal campus participation in preventing sexual violence, Richard currently delivers national talks to male athletes on ending a culture of sexual assault in collegiate sports in all three NCAA athletic divisions.
"It'sOnUs.org is one of the largest student-led organizations across the country when it comes to sexual violence and domestic violence," Richard said. "They reached out and said, 'We need an associate director of men's engagement.' Until now, a lot of the movement has been only about engaging women. Unfortunately, that's not going to change anything. I'm a man, I'm only a normal guy, a simple guy, only a Cortland athlete. I've been able to have success at engaging men in this way."
He joins a Washington, D.C.,-based organization that is building a movement to combat campus sexual assault by engaging all students — including young men — and activating the largest student organizing program of its kind in grassroots awareness and prevention education programs.
Supported by the NFL and Yves Saint Laurent, he's spearheaded outreach initiatives aimed at college students like the 'WTF is a Healthy Relationship?' program.
"That's just our organization," said Richard about the program's title. "College kids like it."
Richard is now part of a five-member action team. The group promotes the idea that active bystanders can work to prevent sexual assault situations from happening in the first place by respecting one another as human beings.
It's a very fitting career move for Richard, who in 2018 received a letter of praise from NFL commissioner Roger Goodell at the Biden Courage Award for Bystander Intervention, hosted in New York City by It's On Us and the Biden Foundation. Richard accepted the award from President Joe Biden, then a former vice president.
Before all the attention, however, he was just trying to please his coach.
"Coach Mac cares about that stuff a lot," Richard said of his gridiron mentor. "So I wanted to make sure we continue on with what we're doing."
First he served as the guest speaker at Utica College's Take Back the Night March the next spring after he intervened on the woman's behalf.
"Utica College approached me after I spoke at the Kristin's Fund event," Richard said. "It was the first speaking engagement, the turning point."
Richard also took part in National Domestic Violence Month events on the SUNY Cortland campus, supercharging a movement that continues, with upcoming activities including a Take Back the Night March on Wednesday, Oct. 26, at 7 p.m. starting on the steps of Corey Union.
He participated with members of SUNY Cortland's It's On Us Action Team and the student club Students Active for Ending Rape (SAFER), which aims to raise awareness about interpersonal violence and offer resources to individuals seeking support. Separately, he already was working nationally with #SetTheExpectation and #itsonus.
When his story began to spread on social media, Richard received many messages from sexual and domestic violence survivors. He transitioned from athlete to advocate, working to tackle issues of violence through prevention work with organizations, joining the SUNY's Got Your Back program the following fall after graduation as speaking engagements around the country began to claim more of his time.
Richard also was the first Division III player nominated for the Capital One Orange Bowl-Football Writers Association of America Courage Awardin November 2018. The Orange Bowl Courage Award is presented annually to a player, coach or support person in college football who displays courage on or off the field, overcomes an injury or handicap, prevents a disaster or has lived through a lifetime of hardships. A select group of college football reporters from the Football Writers Association of America vote on the winner each year.
His character and courage were also recognized by the Institute for Sport and Social Justice and by media outlets like ESPN and CNN.
"I kind of got thrown into the field, even before my senior season," Richard said. "It wasn't like a normal, college kid situation. It was me and Joe Biden, huh? It was a whirlwind, but I thought, 'I can make a difference in this field.'"
---