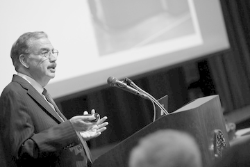 05/03/2022

Dear students,
This is an important stretch of the semester.
I do want to encourage you to ask for help with your studies should you need it. Please don't be afraid to ask. Our faculty and staff want to see you succeed and they will be glad to assist.
Campus resources you can take advantage of include:
I also encourage you to lean on and support your classmates through the next two weeks. Get together and study in groups. Other students may have tips and advice that will be helpful to you – or perhaps you can assist other students who may benefit from your experience.
It is important that you manage your personal mental and physical health. Being healthy and well-rested is vital to your academic success. Please check Cortland Connect for a listing of events for de-stressing and consider visiting the Student Life Center if you are interested in recreational activities.
Be well and be safe.
All the best,
Erik J. Bitterbaum
President
---