Our Champions
Tiantian Zheng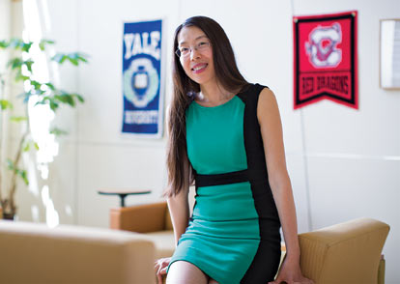 "Anthropology is both a window and a mirror. By showing students what's going on with marginalized people elsewhere, it helps them re-evaluate their own culture and see what's beyond the surface."
First-class educator, internationally respected anthropologist and award-winning author make up just a few of the most common descriptors used to introduce Professor Zheng. Yet there's one that best describes who she is to her students, her peers and the overlooked groups she closely studies — eye-opener.
"The goal for my work is to make sure that it can make a difference in people's lives, bringing social justice issues such as human trafficking to light," she says. "As anthropologists, we go out there and we live with people and we talk with people who are not traditionally approached. We eat what they eat. We do what they do."
Women in China, the gay community and HIV/AIDS victims are just a few of Professor Zheng's research interests. She often receives health intervention requests that help shape United Nations and World Health Organization policies. Her students also benefit. Professor Zheng says the best days are spent sharing her groundbreaking research with them.
Her teaching methods, which include bringing HIV/AIDS victims into class, prove so meaningful to students that they sometimes switch their major to her field. Their professor serves as the perfect inspiration, having won awards that include a prize from the National Women's Studies Association on the topic of women and labor for a book on sex trafficking in China.
"Anthropology is both a window and a mirror," she says. "By showing students what's going on with marginalized people elsewhere, it helps them re-evaluate their own culture and see what's beyond the surface."