Our Champions
Bonni Hodges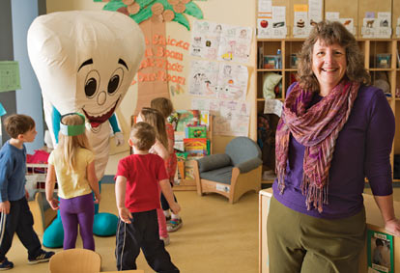 "You can't have folks just waiting for experiences to come to them, you have to connect them with the real world."
For Professor Hodges, few things are more rewarding than watching her health students come into their own while participating in real-world experiences.
Take, for instance, the time she observed a seemingly shy student in action while he was working with the Seven Valleys Health Coalition. The student contributed to earlier classroom discussions without much emotion. But when he was given the chance to dress up in a costume as Mighty Molar, a character promoting proper oral hygiene, the switch flipped inside him and he fully embraced the role.

"It's a lot of fun to see something like that," Professor Hodges says. "And those are the things that stick with you as a faculty member."
She came to SUNY Cortland because of its tradition educating front-line professionals who are prepared to contribute to their professions immediately upon graduating. Besides training health teachers and school district personnel, the Health Department produces thinkers who go on to conduct groundbreaking research and shape public policy.
Professor Hodges typically invites some of her most promising students to work alongside her on personal research projects, which include health program evaluations and monitoring a $1 million school district grant looking to reconfigure school health initiatives.
"You can't have folks just waiting for experiences to come to them," Professor Hodges says. "You have to connect them with the real world."