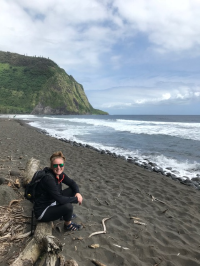 Lindsey Darvin
---
Lindsey Darvin is an Assistant Professor in the Sport Management Department at SUNY Cortland.
Lindsey received her Ph.D. in Sport Management from the University of Florida, her M.S. from the University of Massachusetts Amherst in Sport Management, and her B.A. from Bryn Mawr College in Political Science. She was a two-sport NCAA student-athlete (basketball and lacrosse) during her time as an undergraduate.
Prior to coming to Cortland in 2018, Lindsey worked for a variety of sport organizations as both an administrator and coach. Lindsey began her career working with the United States Olympic Committee (USOC) and from there went on to work with Harvard Athletics in events and operations. She has also worked within a variety of athletic departments including Villanova University, Drexel University, Bryn Mawr College, and the University of Florida. While at the University of Florida Lindsey served as an academic tutor and in a mentorship role for university student-athletes across a variety of varsity programs. She also has previous coaching experience at the intercollegiate and interscholastic levels of play.
Lindsey's research agenda focuses on diversity and gender equity in sport, as her work seeks to combat the lower rates of female leadership throughout the industry. She has published articles within peer-reviewed journals throughout the social sciences, including national attention for a project published within the journal Sex Roles. Lindsey has also written articles for several media outlets, and has provided expert quotes for media articles featured within the Huffington Post, Vice Sports, Forbes, and Culture Trip. She has also served as an editorial manager for the P.A.A.D.S (Professional Association of Athlete Development Specialists) Research Digest, a monthly athlete development journal containing research briefs and industry related interviews and serves on the review board for the Journal of Athlete Development and Experience (JADE).
Education
Doctorate in Sport Management from the University of Florida
Master of Science in Sport Management from the University of Massachusetts Amherst
Bachelor of Arts in Political Science from Bryn Mawr College
Teaching
Professor Darvin teaches a variety of undergraduate and graduate courses both in person and online.
Publications
A sample of recent peer-review publications
Darvin, L., Pegoraro, A., & Berri, D. (2018). Are Men Better Leaders? An Investigation of Head Coaches' Gender and Individual Players' Performance in Amateur and Professional Women's Basketball. Sex Roles, 78(7-8), 455-466.
Darvin, L., & Sagas, M. (2017). Objectification in Sport Media: Influences on a Future Women's Sporting Event. International Journal of Sport Communication, 10(2), 178-195.
Darvin, L., & Sagas, M. (2017). An examination of homologous reproduction in the representation of assistant coaches of women's teams: A 10-year update. Gender Issues, 34(2), 171-185.
Darvin, L., Cintron, A., & Hancock, M. (2017). ¿ Por qué jugar? Sport socialization among Hispanic/Latina female NCAA division I student-athletes. Journal of Amateur Sport, 3(2), 27-54.