International Studies Students Participate at the Model European Union Conference in Brussels, Belgium
January 12, 2020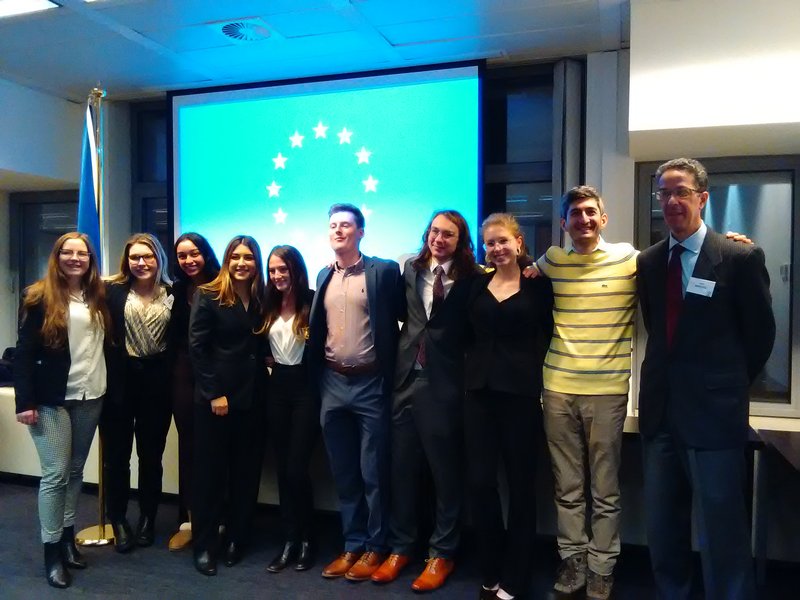 (The SUNY Cortland Delegation. From left to right: Hannah Falk, Naomi Higgins, Jennifer Toribio, Melissa Alvisi, Alyssa Napoli, Eamon McCaffrey, Brendan Miranda, Kelsilyn Norman, Prof. Alexandru Balas, and Prof. Juan Arroyo, Ithaca College).
From January 8-12, 2020, 8 SUNY Cortland students (see list of names below with their major and role played at the conference) and two faculty mentors (Alexandru Balas and Henry Steck) participated at the Model European Union 2020 Conference in Brussels, Belgium. The 8 students from SUNY Cortland represented the European Commission and Romania, one of the 27 European Union member-states. 119 participants from the following 13 universities from 7 countries participated in the 33rd SUNY Model European Union Conference: Universite de Lille (France), University of Malta (Malta), Babes-Bolyai University (Romania), Huddersfield University (UK), Vesalius College (Belgium), Hochschule Schmalkalden (Germany), Coastal Carolina University, City University of New York (CUNY), University at Albany SUNY, University at Buffalo SUNY, SUNY Fredonia, Ithaca College, and SUNY Cortland.
The students debated on topics such as the EU enlargement within the Balkan countries, Enhancing defense and security policy, Reforming the Member states participation to the EU budget - for a fair budgetary reform, and tackling the single use plastics issue and promoting the idea of circular economy.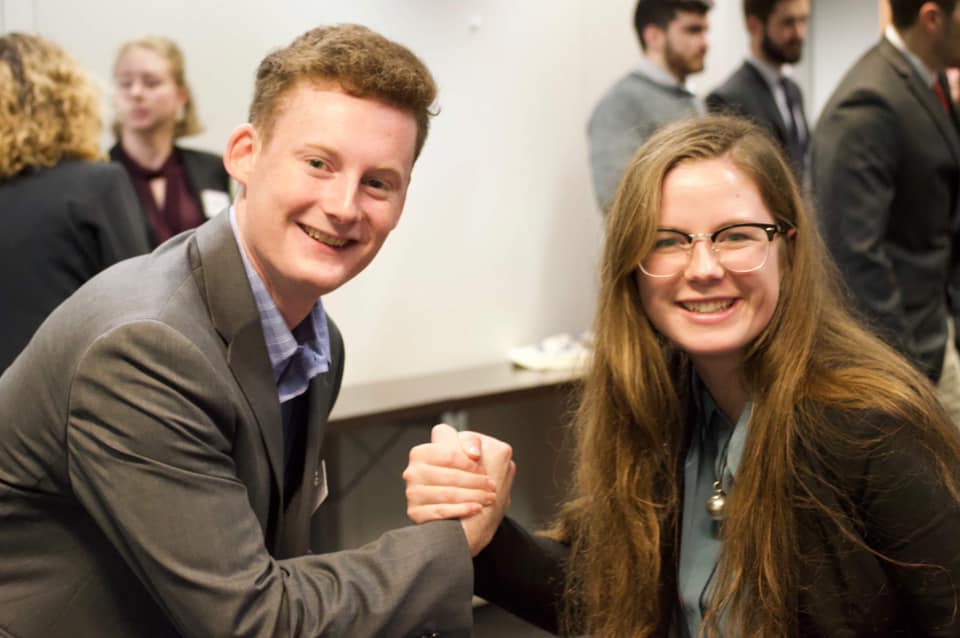 (Eamon McCaffrey and Hannah Falk sealing the deal during their SUNY Model EU Conference)
The participation of the SUNY Cortland students was made possible with support from the International Programs Office, the SUNY Cortland President's Office, the Dean's Office in the College of Arts and Sciences, and the Clark Center for Global Engagement. Logistical support for organizing the 2020 Model European Union was also provided by the SUNY Cortland Bookstore, SUNY Cortland Budget Office, and the SUNY Cortland Auxiliary Services Corporation.
In addition to the conference, the students also visited the European Union institutions such as the European Parliament's Parlamentarium to learn about the developments of democracy within the European Union over the last 70 years, and also visited locations in Bruges and Brussels, as part of the conference activities.
The conference was hosted by the Vesalius College in Brussels, Belgium.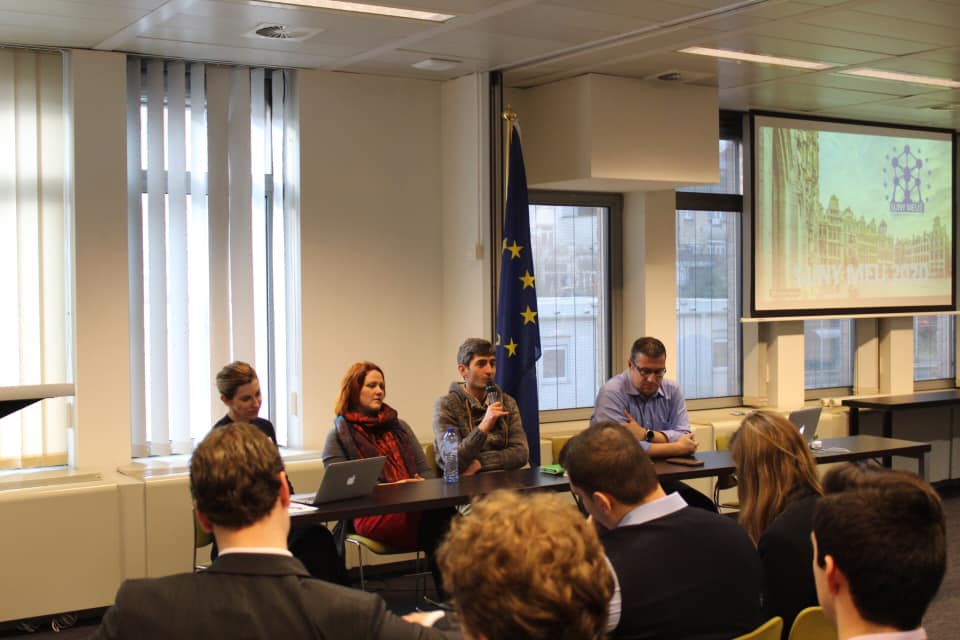 (Prof. Alexandru Balas, Coordinator, International Studies Program, speaking as part of the Expert Panel, together with Prof. Michelle Benson (Univ. at Buffalo, SUNY), Prof. Leonie Jackson (Huddersfield University, UK), and Prof. Andreas Kotelis (Univ. of Malta, and previously 2017 Scholar-in-Residence and Visiting Instructor with the Clark Center for Global Engagement and the International Studies Program, respectively, at SUNY Cortland)