News Detail
03/02/2022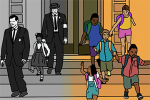 SUNY Cortland will display graphic design panels resulting from a semester-long "call for student artists" to design artwork depicting themes from the Black Lives Matter movement as well as diversity related subjects in Old Main Colloquium through April 1.
The "Black Lives Matter Mural Submission Exhibition," a project of the university's Institutional Equity and Inclusion Office in partnership with Dowd Gallery, the Art and Art History Department, and the Black Lives Matter Mural Committee, opened Feb. 28 and may be viewed during building open hours.
Three graphic design and digital media majors were selected as project artists in December following a competition that attracted 21 online entries. A bold, four-panel BLM mural, created by the students to reflect the national struggle against racial and social injustice, will be mounted in the newly renovated Moffett Center Forum at the end of this semester.
Meanwhile, the winning illustrators will be honored during an opening reception on Thursday, March 3, in the Colloquium, which is located directly off the second-floor lobby. The reception runs from 3 to 6 p.m. and the Winner's Recognition Ceremony with refreshments will take place at 4 p.m.
"The show includes artwork from all students who sent their submissions for consideration, including four winning proposals," said Jaroslava Prihodova, director of Dowd Gallery at SUNY Cortland.
"The collection of 21 pieces celebrates and honors individuals who found inspiration in Black Lives Matter and wanted to share their ideas with the campus community."
Students who participated in the submission process include Vanessa Leon Basurto, Jacob Bernstein, Shannon Delaney, Colleen Fidelman, Katherine Kressner, Cassidy Light, Kemoi Perez and Angie Tillapaugh.
The campus' installation project, suggested and personally funded by Tim Bennett '07, has been moved forward by a partnership of faculty, administrators and students.
Bennett, a local business owner, entrepreneur, and SUNY Cortland Alumni Association board member, supports numerous local civic endeavors and funded a Black Lives Matter street graphic in downtown Cortland as the nation wrestled with racism in the wake of George Floyd's death. He approached SUNY Cortland President Erik J. Bitterbaum about doing something illustrating the same concept on campus.
Lorraine Lopez-Janove, chief diversity and inclusion officer, created the BLM Mural Committee, which in addition to her includes Bennett; Gia Greenidge, founding and current president of the NAACP chapter at SUNY Cortland; Taylor Hunter, president of the Student Government Association (SGA); Tatum Pittman, SGA diversity, equity and inclusion coordinator; SUNY Cortland graduate Shaneya Simmelkjaer '21, a former NAACP president; Brianna Soogrim, the current Black Student Union vice president; Cyrenius Weagba Fitzjohn '19, SUNY Cortland's assistant chief diversity and inclusion officer; Prihodova; Martine Barnaby, professor of graphic design, Art and Art History Department; Zach Newswanger, associate vice president for facilities management; and Seth Asumah, SUNY Distinguished Teaching Professor and chair of the Africana Studies Department.
IMAGE: Shown is a detail of a 4- by 4-foot panel on the theme of "Our Ancestors Wildest Dreams," designed by Shannon Delaney, a dual major in communication and media studies and graphic design and digital media. It depicts on the left side an oil painting of the famous photo of Ruby Bridges being escorted out of her first day at public school by federal marshals. On the other side are current children of all races running out of school with one little girl of color waving to Ruby. The contrast with black and white versus color reflects the immense growth there has been in civil rights, despite having much farther to go.
---