News Detail
03/07/2022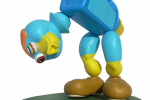 Cyborgs. Post-apocalyptic tattoos. Street urchins.
Over his 45-year career, D. Dominick Lombardi, visual artist, writer and curator, has been nothing if not eclectic.
A traveling solo show of more than 80 pieces of Lombardi's artwork — representing the essence of 20 distinct chapters of the artist's impressive career — will be on display starting Monday, March 7, at SUNY Cortland's Dowd Gallery.
The exhibition in the Dowd Fine Arts Building, titled "High + Low: A Forty-five Year Retrospective," will feature sculptures, drawings, paintings, collages and assemblages. The artworks will be on view until Friday, April 15.
All Dowd Gallery exhibitions and events, including the artist's talk with Lombardi on Tuesday, March 8, and the opening reception on Wednesday, March 9, are free and open to the public. Visit the Dowd Gallery website and social media for links to invitations for virtual events, artist and contributors' profiles, safety protocols, online booking and detailed information about other programs.
The exhibition is comprised of series, such as:
"The Cyborgs," a science-fiction-based series depicting half-human/half-machine beings
"East Village days"
His earliest forays into sculpture and kinetic art
The repurposing of a multitude of found materials
"The Post-Apocalyptic Tattoo" series
"Street Urchin" series
"Lombardi's masterful mix of high and low culture is as current as the day it was created, showing how little the aesthetics of human behavior have changed," said the collection curator, T. Michael Martin. Martin, an assistant professor, curator and director at the Clara M. Eagle Gallery at Murray State University in Murray, Kentucky, noted that the extensive collection, which offers a comparative view of opposing ideas and visual styles in the scope of fine art, premiered at the Clara M. Eagle Gallery in 2019.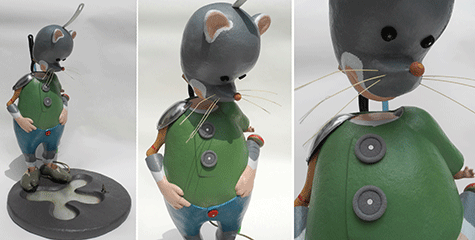 "In some ways, Lombardi's distortions are a more truthful look at society than our daily facade of polite policy and political correctness, especially in the way we prompt contention," Martin wrote. "Lombardi offers a much-needed change and disruption through his unique sense of humor."
The collection reflects Lombardi's interest in a wide variety of materials, mediums and concepts combined with experimentation.
The evolution of Lombardi's practice began with the introduction of modern art, specifically when he first saw a reproduction of Picasso's Guernica (1939) at the age of 3 or 4, and continued with his introduction to the subversive world of Zap Comix in 1968.
Visitors to the exhibit will have the opportunity not only to see a myriad of unique and thoughtful pieces but also to experience a physical representation of the timeline of Lombardi's artistic life.
With an aim to set the presented works in a wider context, the gallery plans a series of interdisciplinary, virtual and in-person programs. Events include:
Artist's Talk: D. Dominick Lombardi will discuss the exhibition "High + Low" 5 p.m. on Tuesday, March 8, at Dowd Gallery. He will address the evolution of his artistic practice, how each phase came about, what if anything inspired the work, and how he came to change media, genre, emphasis and message.
Opening Reception: The event will run from 5 to 7:30 p.m. on Wednesday, March 9, in Dowd Gallery.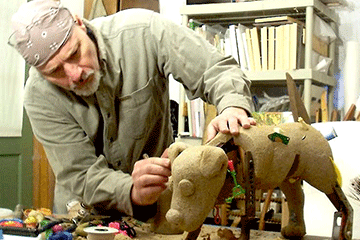 Gallery Talk: Errika Gerakiti, a Greece-based writer, critic, and contributor to art-centric online publications including Daily Art Magazine, will hold a virtual discussion of "The Crystallization of Lowbrow Art in the Works of Dominick Lombardi," at noon on Friday, March 25. Her historical overview of the Lowbrow Art movement will set the art scene in a timeline describing the evolution of to pop surrealism and connect its characteristics directly with the artist's work.
Gallery Talk: Michael Shnayerson, author, journalist and contributing editor for Vanity Fair magazine, will give a virtual presentation titled "Toward the Contemporary Boom: Mad Money, Mega Dealers and the Rise of Contemporary Art" at 5 p.m. on Thursday, March 31. Shnayerson will present an overview of the rise and the strength of the art market propelled by "behind-the-scene" personalities, motivated dealers and elite auction houses, setting the course of the astonishing value of work by blue-chip artists with recognizable names like Jeff Koons or Damian Hirst.
First Friday Event: An in-person and virtual guided tour of the exhibition has been organized by Cortland Arts Connect. The tour will take place from 5:30 to 8 p.m. on Friday, April. 1. The event will be both live and virtual on Facebook and the Dowd Gallery website.
Documentary Screening: The 1994 film "Crumb," the acclaimed documentary about pioneering underground comics creator Robert Crumb, directed by Terry Zwigoff, will be shown at 5 p.m. on Tuesday, April 5, in the Dowd Gallery.
Gallery Talk: Abram Fox, curator for the Lieberman Collection and special topics instructor at Towson University at Towson, Maryland, will give a virtual seminar on "Modern Mythologies: A History of Comic Books and Popular Imagination" at 5 p.m. on Thursday, April 7. Fox will trace the trajectory of comics both as the visual combination of word and image and as a location for crafting exciting, engaging and compelling stories.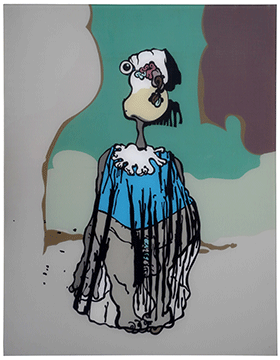 Film Screening: The 2003 movie, "American Spender," will be shown at noon on Friday, April 8, in Dowd Gallery. Directed by Shari Springer Berman and Robert Pulcini, the screening was co-organized with the Art and Art History Department and Love Your Major.
Documentary Screening: A compilation of shorts titled "Between High and Low" will be shown at 5 p.m. on Wednesday, April 13, in Dowd Gallery.
Gallery hours are 10 a.m. to 5:30 p.m. Monday, Tuesday, Wednesday and Friday; 10 a.m. to 7 p.m. Thursday; and by appointment. The gallery is closed on weekends.
The exhibition is sponsored by the university's Art and Art History Department, Art Exhibition Association and the Campus Artist and Lecture Series.
For more information, to inquire about an appointment, a tour, or additional images, contact Jaroslava Prihodova, gallery director, at 607-753-4216. Visit @dowdgallery on Instagram or Facebook for detailed information about other programs, links to invitations for virtual events and artists' profiles.
---