2023/24 Academic Year Theme: Food
Food is one of the most interdisciplinary themes in our daily lives. From the science of agricultural practices to the economics of food systems, from the cultural values that surround family recipes to the histories behind culinary traditions, food unites communities as well as academic fields. Food can also act as a window into some of the largest crises of our time, such as the need for fostering sustainable ecosystems, the precarity of global food pathways in the face of climate change, widespread hunger and famine, food deserts, and inequalities of access to healthy nutrition. This academic year, the Cultural Intellectual Climate Committee will partner with local groups, including the Cortland Food Project, to explore the many facets of Food on our campus and in our communities. Building on SUNY Cortland's commitment to green initiatives, we hope that the shared topic of Food will not only provide "food for thought," but also that it will inspire collaborative actions as we work together towards a nourishing and sustainable future.
Our Common Read
Our Common Read selection for the 2023-2024 academic year will be Braiding Sweetgrass: Indigenous Wisdom, Scientific Knowledge, and the Teachings of Plants, by Robin Wall Kimmerer. The goal of the Common Read program is to connect students, faculty, staff, and community members around a shared text, chosen to prompt interdisciplinary discussion on our central theme of importance for the year. Braiding Sweetgrass resonates strongly with this year's focus on Food, inviting us to explore our relationships with the environment on both personal and systemic levels and to build community through our engagement with Kimmerer's moving and lyrical storytelling.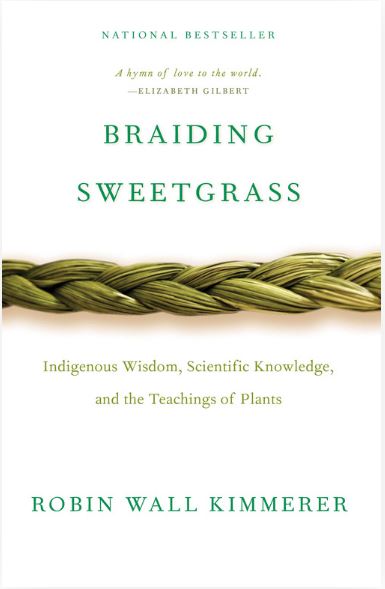 In a series of beautiful and thought-provoking essays, Kimmerer brings together Indigenous wisdom and practices in Western botany to emphasize and embrace our reciprocity with the natural world. In this way, Braiding Sweetgrass provides us with a new approach to food, showing us that the plants and animals that feed us are not just a source of bodily nourishment, but also our family and our teachers. Kimmerer is an enrolled member of the Citizen Potawatomi Nation, a Distinguished Teaching Professor of Environmental Biology at SUNY College of Environmental Science and Forestry in Syracuse, and a MacArthur Fellow. Part of the joy of reading Braiding Sweetgrass in Cortland is thus that many of the interwoven narratives that make up the book take place locally in our Central New York landscape.
Complementary Readings
Our History Is the Future by Nick Estes
Becoming Kin by Patty Krawec
As Long as Grass Grows by Dina Gilio-Whitaker
Nature Poem by Tommy Pico
Fresh Banana Leaves by Jessica Hernandez
As We Have Always Done by Leanne Betasamosake Simpson
Fall Events
Thursday, Sept. 7, 4 p.m. - Old Main, Room 220 (the Colloquium).
Teaching Braiding Sweetgrass: Classroom Contexts, Lesson Plans, and Learning Objectives.
Thursday, Oct 5, 8 a.m. - 9:00 a.m. - Location TBA.
A Community Roundtable: Addressing food insecurity in Cortland County.
Thursday, Oct 5, 6:30 p.m. - Register for A Chickadee's Guide to Gardening
Bestselling author, podcaster, and scientist Dr. Doug Tallamy will explain how native plants support wildlife.
Thursday, Oct 12, 1 p.m. - Old Main Room 220 (the Colloquium).
Sandwich Seminar: The SUNY Cortland Cupboard.
Wednesday, Oct 25, 7 p.m. - Corey Union Room 209.
A Student Book Club Discussion: Braiding Sweetgrass. Hosted by the students from Sigma Tau Delta, The English Department Honors Society
Wednesday, Nov 1, 6 p.m. - Sperry Center Room 104.
Join us for a screening of the 2008 documentary film - (Food, INC).
Thursday, Nov 9, 7 p.m. - Sperry Center Room 105.
Join us for a screening of the 2020 documentary film - (Kiss the Ground).
Spring Events
TBA
About
The Cultural and Intellectual Climate Committee (CICC) is an all-campus committee of faculty and staff appointed by the Provost. Each year members of the Committee choose a theme to frame a year-long series of lectures, discussions, film screenings, and art exhibitions. This theme is meant to promote cultural life on campus and help the campus and Cortland community engage in discussions connected to issues relevant to today's world.
If you are a member of SUNY Cortland's faculty or staff and would like to participate in the CICC, please contact Benjamin Wilson, the committee's chair. If you are member of the student body or the Cortland community and have a suggestion for a speaker or event, please feel free to contact us as well.
---