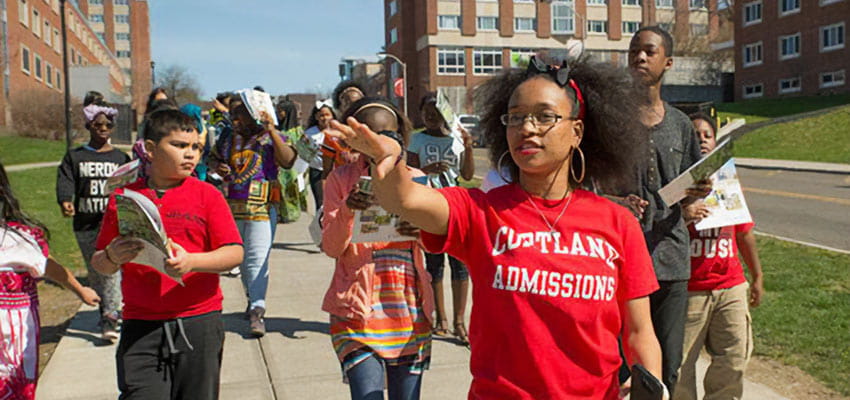 SUNY Cortland's C.U.R.E. Scholarship and Program has much to offer students. We provide a comprehensive urban teacher preparation program that complements traditional teacher preparation programs and supports students so they succeed in college and beyond.
The C.U.R.E. Program includes:
Course work to provide a more complex understanding of the issues of urban education. C.U.R.E. students take three unique courses (FSA 101: Introduction to Urban Education; FSA 103: Gender, Race, and Class in Education; INT 270: Exploring Education with an Urban Focus) in addition to the course work required by each major.
Mentoring is provided for each C.U.R.E. scholar. From the earliest days on campus, C.U.R.E. students are assigned a peer mentor to ease the transition to college. Students develop a network of support through Orientation, a Welcome Picnic and peer mentoring activities.
Academic Support for all C.U.R.E. students includes weekly meetings with a C.U.R.E. staff person to address academic and transition needs. C.U.R.E. students also are required to complete a learning profile with The Learning Center.
Who should apply for the C.U.R.E. scholarship?
You should apply to C.U.R.E. if:
You want to become a teacher so that you can make a difference in a child's life.
You are open to new experiences and people from various backgrounds and cultures.
You think that education is one of the best ways that people can improve their lives.
If these sound familiar or like something you can imagine yourself believing, you should apply to the C.U.R.E. program. Once you are accepted, you will be given all of the preparation that you need to succeed as an urban teacher. You are not expected to know everything right away, but you will be expected to work hard, have an open mind and be ready for challenges.
Do I qualify for the C.U.R.E. scholarship?
You are eligible to apply for the C.U.R.E. scholarship program if:
You have already been accepted to SUNY Cortland.
You are a first- or second-year student or a transfer student.
You are a student who is a member of a group that is underrepresented in teaching (African American, Latino(a), Native American, economically disadvantaged background) or you have a serious interest in urban education.
You have a strong high school grade point average and two letters of recommendation.
Apply for the C.U.R.E. scholarship
Complete the application by March 20, 2023.