News Detail
04/05/2022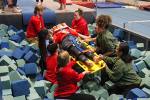 Serious sports-related injuries can happen in a variety of settings that pose unique challenges for first responders, and SUNY Cortland students likely to find themselves in that initial, emergency role need to be prepared.
That motivation brought together five graduate students in the university's M.S. in athletic training program and seven members of SUNY Cortland Emergency Medical Services (SCEMS) for a collaborative training exercise in Park Center on March 27.
The students practiced a rescue scenario that involved safely removing someone with a suspected cervical injury from the foam pit in the building's gymnastics room. Under the guidance of the university's certified athletic training staff, both groups — the athletic training graduate students and SCEMS members — discussed the intricacies of their roles and gained nearly three hours of rescue practice.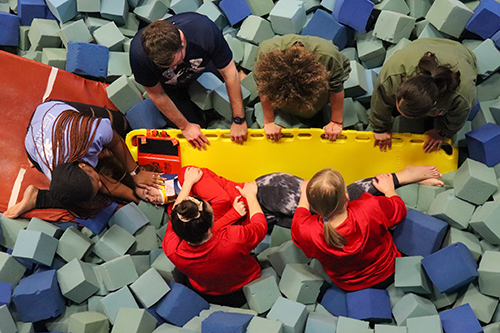 "The goal was to collaborate, exchange ideas and ultimately improve continuity of care for our patients," said Pat Donnelly, an athletic trainer who teaches graduate students and works with student-athletes in the university's Division III Athletics Department. "We wanted each group to gain a sense of — and appreciation for — the other's roles and skills."
Graduate students in athletic training develop hands-on skills across a variety of settings throughout their two-year master's program. Students from any academic major can join EMS, a close-knit volunteer group that has operated on campus for more than 45 years and is staffed 24 hours a day, seven days a week when classes are in session.
Donnelly explained that the foam pit in Park Center's gymnastics area offers a unique learning environment for both groups. Many college campuses do not house a foam pit, which presents special challenges for safely removing injured people.
Student rescue teams practiced how to safely enter the foam pit, assess victims, apply a cervical collar, place them on a spine board and eventually how to remove them from the foam pit for further medical care. Donnelly said gymnastics injuries likely would be most common in a foam pit, but the simulation also provided transferrable skills for trampoline accidents, emergencies in gyms and training centers or other activities involving falls from heights.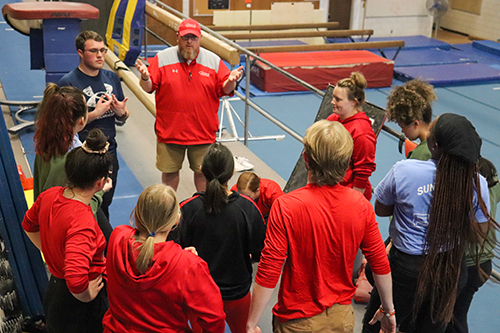 The intention is to offer more collaborative learning experiences and build a partnership that brings future athletic trainers and EMS members together. Possibilities could include the proper way to safely remove football equipment after a potential neck injury, how to respond to ice hockey injuries and airway and bleeding management.
"We want this to be a two-way street," Donnelly said. "SCEMS does so much for our campus, and their members have a tremendous amount of experience that they can offer. From an athletic training perspective, there are skills we're trained in and things we may see more frequently. We are each better for our patients when we share that experience and knowledge."
---