News Detail
06/12/2013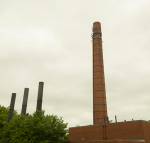 The towering smoke stack above SUNY Cortland's heating plant no longer breathes steam into the air, the result of a satellite boiler project expected to save the College nearly $600,000 in energy costs annually.
The 60-year-old heating plant, situated near Bowers Hall and Old Main on the north end of the SUNY Cortland campus, stopped producing steam for heating purposes May 20. As part of a $12 million, two-year project, new high-efficiency boilers installed in each building across campus have taken on the function of the aging plant.
"Replacing our old, reliable but inefficient central heating plant with new ultra-high-efficiency boilers will dramatically improve our carbon footprint, while saving the College hundreds of thousands of dollars each year in fuel costs," said Timothy Slack, the director of physical plant. "This is just another example of SUNY Cortland taking a leadership role in committing to a sustainable future."
Heating costs account for more than 40 percent of the College's energy budget, Slack said. That expense will be reduced because the College replaced its outdated system of steam pipes that let much heat go to waste as the steam traveled from the plant to dozens of campus buildings. Now, a network of underground gas pipes will carry fuel to individual boilers in every building, allowing the steam heat produced by each boiler to remain in one structure. The amount of natural gas usage also will be reduced with the new satellite boilers.
"The (old) boilers were put in in 1953, so you've got to believe the efficiency wasn't there," said Thomas Hingher, a utilities engineer in the heating plant.
Thomas Hingher, left, and Steven Lundberg
share a conversation in SUNY Cortland's
heating plant.
Steam leaks in the three-pipe system that ran across campus constantly required small repairs, creating additional maintenance costs, Hingher explained. Now, each building will operate on at least two boilers.
The workload will remain about the same for a 17-member staff that oversees heating maintenance. With more than 3,000 pieces of equipment to maintain on campus, the need to perform preventative maintenance work, replace filters and grease motors has not changed.
The staff's daily operations schedule, however, now involves two shifts covering a 17-hour workday from 7 a.m. to midnight. For decades, the heating plant ran as a 24-hour operation, 364 days out of the year.
Steven Lundberg, who worked in SUNY Cortland's physical plant for more than 35 years before retiring in 2010, earned a reputation over time for his knowledge of the heating plant's ins and outs and its role on campus.
Although the plant adapted with the College's growth spurts over time — an addition was built in 1964, for instance, to heat low-rise residence halls — the physical plant staff's commitment to effectiveness and sustainability never changed, despite aging equipment.
"The key thing for the plant, related to sustainability, is that it was environmentally friendly long ahead of its time thanks to natural gas, good water that we sit over and then the people that had the knowledge to make both of those components work," Lundberg said. "There's no way that boilers made in 1953 could go nearly 365 days a year for 60 years without natural gas, clean fuel and good water treatment."
Although its fate has not yet been determined, the heating plant will continue to house the offices of the physical plant workers who maintain the College's boiler system.
---