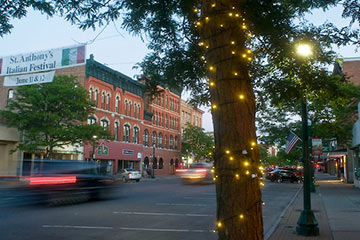 06/27/2023

The city of Cortland is a great place to visit — but would you really want to live there?
A list from a website licensed by the National Association of Realtors says there's no better place to buy a house in the United States than the neighborhoods surrounding SUNY Cortland.
Realtor.com, a real estate listings website that claims more than 100 million monthly active users, placed Cortland at the top of its "10 Most Affordable Small Towns Where You'd Actually Like To Live, 2023 Edition."
To produce the ranking, the site reviewed real estate in all 543 U.S. "micropolitan areas," which the U.S. Census defines as places of 10,000 to 50,000 people clustered around an urban core. They looked at dining, entertainment, recreation and quality-of-life businesses in the area, developing a system that incorporated that data alongside home list prices.
The national list describes Cortland as a "town with lots of big-city appeal," with proximity to larger cities like Syracuse and Ithaca as a bonus. Its natural beauty, community events, restaurants, cultural and recreational options — and a campus recently named the safest in New York state — all add to what Realtor.com points to as unmatched value.
What the city and region offer has made the university an easy sell to students for years. In turn, SUNY Cortland has been a proud, longtime partner in the city's development and success.
The university is the leading employer in the city of Cortland and Cortland County, with 1,400 employees. It also acts as a valuable resource of athletic and cultural entertainment, quality childcare and volunteer service that enriches the local area that so many students, staff and faculty consider a home.
"Each month, leaders from SUNY Cortland, including students, and the greater Cortland community partner on ways of helping students feel welcome and at home in Cortland," said John Suarez, director of SUNY Cortland's Institute for Civic Engagement.
"They plan events and discuss items of mutual interest. In addition, students sharpen their skills through mutually beneficial learn-by-doing projects with people in fields such as the arts, athletics, biology, education and government."
Included among SUNY Cortland's many efforts as part of the community are:
"The city working together with the university has been positive to providing a better quality of life to an already outstanding environment academically as well as city resources," said Cortland Mayor Scott Steve. "This partnership has been great for the academic opportunities to assist in parking studies, tree replacement data and even cleaning up projects and The Big Event."
It is this level of outreach from the university for its home region that, in 2015, made SUNY Cortland the first ever SUNY institution to gain the Carnegie Foundation's community engagement endorsement, and has led it to be named multiple times to the U.S. President's Higher Education Community Service Honor Roll.
---