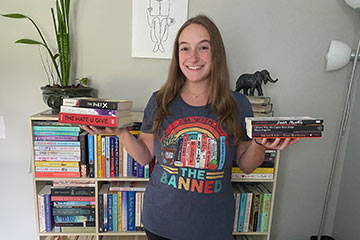 07/25/2023

As an aspiring teacher, SUNY Cortland senior Emma Stack is concerned about the impact growing censorship in schools has on public education. So this summer, she decided to find out for herself.
Stack is one of 12 SUNY Cortland undergraduate research summer fellows this year.
She wants her Undergraduate Summer Research Fellowship project, "The Books that Bind: Analyzing the Effects of the Banned Book Effort on the Public Education System," to help educators assess the problem.
"There is no doubt that the conversations surrounding this topic have reached an all-time high, with state governments issuing censorship laws within classrooms all throughout the nation," Stack said. "In response to this, I am really interested in researching this question: How does the banned book effort in the United States affect current English teachers and librarians in designing curriculum within the public school system?"
Stack, a senior who plans to become an English teacher, majors in adolescent education English and minors in teaching English to speakers of other languages (TESOL).
As part of her research, Stack is interviewing three teachers and one librarian in the New York public education system. She'll then analyze those conversations, looking to decipher similarities and differences in the participants' responses. Then she will complete a formal write-up of her findings that Stack hopes to publish and present at conferences.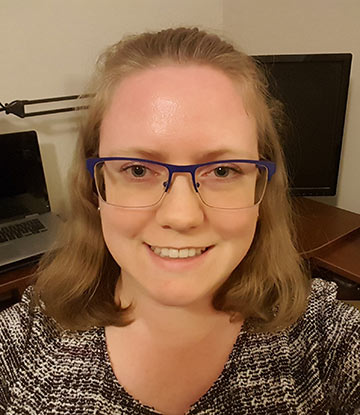 The goal for Stack is to help gauge the severity of the issue, which in turn will let educators better adapt to the changing legal landscape.
"I remember hearing news stories and reading articles about the pushback teachers were — and still are — receiving from any and all directions about the books they were teaching, and feeling very upset by that," Stack said. "I wanted to create something that could help all educators, both those currently on the ground and preservice teachers like myself, in how to handle book censorship and banning."
SUNY Cortland's summer student research program, managed by its Undergraduate Research Council, provides students with a residence hall bed, campus research space and $4,000 stipend. The Council gives an additional $2,000 to each faculty member who mentor a student. The students present the results of their studies at the annual Transformations conference.
Each student's fellowship is supported by donors who fund permanent undergraduate research endowments managed by the Cortland College Foundation. Stack's donor funding came from the estate of Nancy Johnson '48 M '56.
The idea for her project came out of a 2022 summer study abroad trip to England. On that trip, Stack recalls talking with friend Lawrence Bruce '22, who last year had a summer research fellowship of their own.
"I remember realizing at that moment that creating a research project was not something that had to be done while wearing a white coat in a science lab. It encouraged me to explore topics in English and in education that I might consider learning more about."
Returning to Cortland for the fall semester, Stack was introduced to Assistant Professor Adrienne Raw of the English Department, who would become her mentor for the project.
"It's been really wonderful to work with Emma this summer," Raw said. "The most fulfilling part of working with Emma is the passion she brings to her project. The questions she's asking are not just critically important to the field, but also questions that matter to her. It's inspiring to see her commitment to building resources for others, and it's a genuine joy to be able to work with her on making that happen. Emma is the kind of student that keeps you excited about teaching."
The partnership with Raw has been an indispensable source of support, according to Stack. Her mentor provided in-depth knowledge on the past and current history of book banning along with added resources on research methodologies. The entire English Department have also provided encouragement and resources.
Stack said she was intimidated at first when applying for the fellowship because her project focuses on the humanities rather than traditional science. That all changed when her proposal was approved.
"I felt very validated by — not to mention incredibly grateful — for the research council upon hearing about my acceptance. It made me extremely happy and excited that other people were interested enough in this project to provide funds and support in order for me to carry out the vision I have for it.
---