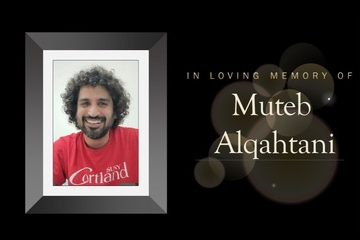 06/28/2022

Faculty and staff from the Childhood/Early Childhood Education Department are collecting memories and raising funds for a memorial in honor of Associate Professor Muteb Alqahtani, who was found deceased earlier this month.
Students, faculty, staff and friends are encouraged to submit their stories, photos or videos to Google Drive. These collected memories will be shared at a later date. A memorial service for Alqahtani is being planned for early September. Details will be shared with the campus community at a later date.
Faculty, staff, students and friends may choose to donate to the Muteb Alqahtani Memorial Fund to support students in need and remember Alqahtani's loving and generous spirit.
The Childhood/Early Childhood Education Department faculty also would like to share a video interview with Alqahtani that was created a few years ago by Kelsey Klein '18. The video, "Most Important to be Fearless," which is available online, shows Alqahtani's passion for his work and his students.
Alqahtani was raised in Dammam, Saudi Arabia and earned a Ph.D. in mathematics education from Rutgers University. He joined SUNY Cortland's Childhood/Early Childhood Education Department in 2016 and was passionate about mathematics education and initiatives related to diversity, equity and inclusion for all. A prolific researcher, writer and scholar, Alqahtani's skills supported several grant projects to provide professional development teachers in New York, New Jersey and Turkey. He was an active participant in Cortland's Professional Development School program through Appleby Elementary School in Marathon, N.Y.
He is survived by his best friend and partner, Valerie Widdall, his parents, Moshabab and Fatimah, his five siblings, Roud, Meshal, Rawaed, Meshari, and Abdullah and six nieces and nephews.
Members of the campus community who are seeking resources should remember:
---