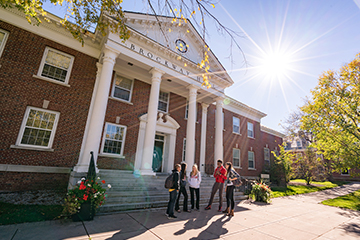 08/31/2021

SUNY Cortland takes pride in providing a transformative educational experience at an affordable price.
But you don't have to just take their word for it.
In its most recent annual College Guide and Rankings, Washington Monthly placed SUNY Cortland at No. 46 in the nation on its list of master's universities. Cortland was the second-highest ranked SUNY comprehensive college.
The magazine rates how well universities graduate low-income students, produce ground-breaking scholarship and encourage students to serve their country. To do that, it uses a number of criteria, including graduation rate, number of Pell Grant recipients, net price of attendance for families below $75,000 in income, as well as its own research, public service and social mobility rankings.
"I have long maintained that SUNY Cortland is an institution of access that can break the cycle of poverty in a single generation," President Erik J. Bitterbaum said. "We don't just prepare our students for successful careers. We prepare them to go out into the world and make a significant, positive difference."
SUNY Cortland scored well in particular on the social mobility (No. 54 in the nation) and public service rankings, where the university ranked at No. 28. Washington Monthly's public service metric includes data on the number of degrees awarded in health, education and social work, Peace Corps and ROTC participation as well as if an institution received the community engagement classification from the Carnegie Classification of Institutions. Cortland was the first SUNY campus to earn the classification, which recognizes institutional commitment to community engagement.
Universities also earned points by encouraging voter registration by submitting action plans through the ALL IN Campus Democracy Challenge. The challenge recognized Cortland with a Presidential Commitment award for its efforts in "striving toward full student voter participation" in 2020.
Social mobility was measured by weighing factors, including the number of students receiving Pell Grants, to measure each institution's commitment to educating a diverse group of students. The magazine used average net price data from the Integrated Postsecondary Education Data System (IPEDS) to examine affordability for students from lower- to middle-income families. Other data included in this ranking included loan repayment rates that reflect the ability of students to support themselves financially after graduation.
In addition to the master's university rankings, which include institutions that award a significant number of master's degrees but few or no doctoral degrees, Cortland ranked No. 53 on the magazine's "Best Bang for the Buck: Northeast" list.
Washington Monthly also listed SUNY Cortland on its "Best Colleges for Student Voting" list.
SUNY Cortland has been previously recognized by other national publications for providing students a quality, affordable education. Money.com ranked the university among the top 5% in the nation on its "Best Colleges for your Money 2020" study. Cortland has been the top-ranked SUNY comprehensive college on this list for three consecutive years.
The Princeton Review has listed SUNY Cortland on its "Best Colleges Region by Region" for the Northeast. Zippia.com ranked SUNY Cortland No. 5 in the nation for "Best Public College in Each State for Getting a Job in 2020." Safewise.com named Cortland to its annual ranking of the safest college towns in America in 2017, 2018 and 2019.
---