News Detail
04/30/2021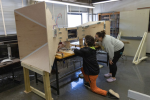 Assistant Professor Eric Edlund's intermediate physics laboratory course is all about giving students opportunities to get hands-on experience in precise experimental measurement.
That's been tough to do throughout the COVID-19 pandemic.
So when Edlund announced earlier this semester that the class would soon embark on a group project, the students were thrilled.
They were going to be the first group to use SUNY Cortland's brand-new wind tunnel.
Edlund and Physics Department lecturer Sean Nolan started building the device in January on a shoestring budget of about $1,000 with support coming from the Physics Department and a grant from the Provost's Office. Students in the class are currently working on various experiments to study lift and drag and will combine their findings in a semester-ending group presentation.
"When (Edlund) told us we were doing a class project, everyone looked around and smiled," said Emily DeClerck, a junior physics education major from Hilton, N.Y. "It's more fun. We're all friends and we all know each other. It's a small group and we all work together. We're still doing our own things but we're going to put it together for one final answer and present it. That's super exciting for us."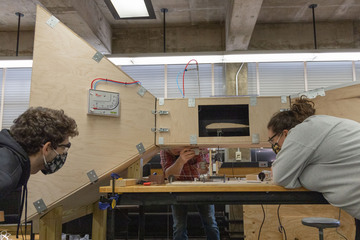 Measuring about 10 feet long by four feet high, SUNY Cortland's wind tunnel fits on top of a regular classroom lab table. A fan at the rear pulls air through the tunnel with a balanced mount in the center that allows students to attach objects and use weights to counteract the drag and lift forces. Using these measurements, the students will be able to see the theories they've learned about in class acted out in practice.
DeClerck and her lab partner, Zachary Fernandez, a senior physics major from Middletown, N.Y., are examining how the shape of an object, in this case an airplane wing, plays a role in fluid dynamics. Another group is looking at the difference between smooth and rougher objects using a lacrosse ball and a tennis ball. Other students are using the pitot tube installed on the wind tunnel to measure fluid flow velocity.
"Normally we theorize to begin with and we reinforce those ideas while actually doing the experiment," said Dakota Wagner, a junior adolescence education: physics and mathematics major from Homer, N.Y. "The majority of the time our data supports what we expect to see and that's pretty cool to see that they agree."
Edlund has had a chance to share some history lessons with his students as well. The wind tunnel is constructed with some recycled bicycle parts, which help with fine-tuning the balance mechanism. The aviation pioneer Wright Brothers got their start building bicycles in Dayton, Ohio.
"I can't imagine teaching a course like this, Physics 357, remotely," Edlund said. "It is inherently a hands-on experience and the only good way to do that is with in-person classes. It has been a joy to be back in the classroom and working with students face-to-face again. I'm happy to see them diving into the wind tunnel work and am proud of what we have accomplished. This is a transformative kind of experience because it builds confidence and mechanical aptitude by requiring them to, literally, get their hands dirty and grapple with complex concepts."
For some of the future teachers in the class like Greg Cassiano, a junior adolescence education: physics and mathematics major from East Islip, N.Y., the wind tunnel has inspired him to think about how he might engage his own students one day.
"The cool thing is that our professor was curious and wanted to do something different and he came up with it and built this," Cassiano said. "We're at the edge of what's in the textbook but you can come in here and do it. I think it's a testament to the idea that if you're curious, come in here and set it up. It wasn't here two weeks ago and now here it is."
---