News Detail
05/14/2019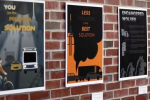 SUNY Cortland's art and physics students don't typically cross paths in their academic work.
But when they do, the result can be impressive.
A visually arresting poster gallery on display in Bowers Hall through the summer combines the hard-science work of physics majors with the creativity student artists to communicate important concepts in a way everyone can understand.
This pairing of academic odd-couples is part of SUNY Cortland's participation in the Common Problem Pedagogy Project, a collaboration of four SUNY Campuses aimed at using academic education to tackle real-world problems.
The students' combined work, "Connections: Translating Methodologies from Physics and Design," is the result of asking physics and art students to collaborate on four topics: forest management, endangered species, air and water pollution and world population.
Physics students translated their topics into a set of mathematical constraints and differential equations. Models were run with multiple conditions representing potential policy changes that could shape the future of the environment.
The art students then took this data and considered ways to tell a visual story on a 17"x23" poster that would effectively inform a general audience.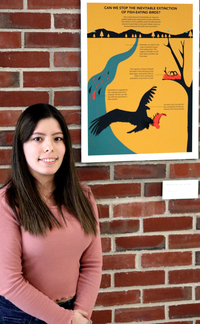 For Olivia Wilburn, a sophomore physics major from Stockton, Calif., numbers and data are a big part of her studies. When she's talking to others in the sciences, they are speaking a shared language. But interpreting those figures into something that could be represented visually was a new challenge.
"It was more about communicating with the art students and learning how to explain data and research in a way the general public can understand," Wilburn said.
"Connections" was a way for students from different disciplines to wrestle not only with the array of possible solutions and methods that could be used to address ecological issues, but also with how to explain that process to non-scientists.
"In the end, how do we decide on a particular policy to get a desired outcome?" said Eric Edlund, assistant professor in the Physics Department. "And what is the desired outcome when you're balancing lives, whether it's people or fish or grey wolves, versus the economic viability of farms or farmers or people living in New York City or wherever it might be? It's not clear how you might weigh these things.
"Really, the hard work in the end comes on the other side, when you try to take this data and make a story out of it and convince people to action."
Nicole Bravo, a senior new media design major from Queens, N.Y. said she was glad to learn something new about science. It was also a practical application of skills she'll use after graduation.
"It gave us a taste of the real world, having to work with clients in the future," she said.
The Common Problem Pedagogy Project (CP2) is a form of applied and experiential learning that has elements of problem-solving, service learning, inquiry-based learning, interdisciplinarity, teamwork and other proven strategies. Its goal is to link faculty and students from different disciplines and identify real world problems of interest to all.
SUNY Cortland is one of four SUNY campuses participating in the project, including SUNY Oneonta, SUNY Oswego and SUNY Plattsburgh.
A separate SUNY Cortland CP2 project focused on ecotourism in the Adirondacks was led by assistant professor Benjamin Wilson of the Economics Department and associate professor Scott Moranda of the History Department. That work is featured in the 2019 STEM for All Video Showcase, which is funded by the National Science Foundation.
"Our faculty have found that Common Problem Pedagogy has been a great way to engage students by having them apply their knowledge and skills to address real world problems," said Bruce Mattingly, dean of the School of Arts and Sciences. "Our students are seeing first-hand the benefits of considering multiple perspectives from a variety of disciplines in solving problems. We hope that the video will encourage faculty on other campuses to explore this approach to teaching."
---