News Detail
05/17/2020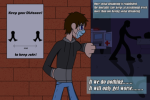 Telling the story of the COVID-19 pandemic is complicated.
What's the best way to combine research on medical, economic and policy issues related to the virus and compile that into an easy-to-digest visual package?
Well, a group of SUNY Cortland students in physics and graphic design courses set out to do just that this semester.
Assistant Professor Eric Edlund of the Physics Department and Assistant Professor Szilvia Kadas of the Art and Art History Department worked with students to tackle this topic.
Early in the semester, students were tasked with creating a list of issues of social or environmental importance. The coronavirus made that initial list at No. 9 among 26 topics, originally trailing topics including climate change, personal and college debt, biodiversity and mental health. As the project neared its starting date in March, COVID-19 became the obvious target.
The graphic design and physics students started the project together by breaking into multidisciplinary teams to investigate three topics:
How social distancing and quarantine affects the spread of COVID-19
How the availability of medical resources such as staffing, hospital beds, ventilators and masks affect the propagation of COVID-19
How social distancing and quarantine alter the economy
Students shared news articles and discussed possible research questions. Next, the physics students examined these research questions in more detail and created numerical models.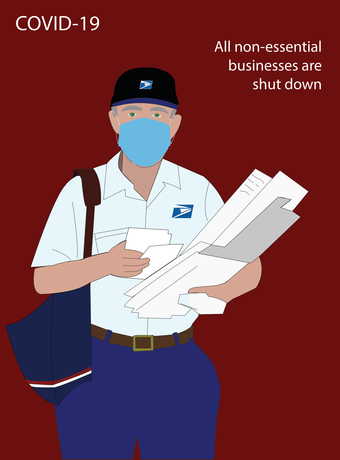 "We were trying to see if we could construct a set of equations like a crystal ball that allows us to have some sort of insight into the future," Edlund said. "In that process, we did a lot of thinking about what factors were relevant."
Once the model was complete, physics students took graphical models and wrote technical reports to explain this complex math in words.
The graphic design students took these reports and were asked to create a 17x23" poster that visually represented the findings. Kadas had three main learning outcomes: how to visually narrate and tell a story, how to use infographics and how to read scientific data and make meaning of it.
"I wanted them to visualize it and create visual forms from data and also to tease out a story that would be relevant to the general public," Kadas said. "It's a great exercise and assignment for them to go through. It's an essential part of graphic design."
A full gallery of the students' work is available online.
This is the second consecutive year that the Physics and Art and Art History departments have worked together as part of SUNY Cortland's participation in the Common Problem Pedagogy Project, a collaboration of four SUNY campuses aimed at using academia to tackle real-world problems.
Since Spring Break, students from the two departments have met together virtually to share ideas and help one another understand their side of the project.
"It was kind of difficult reading the report and the scientific aspects of it, but I just tried to pick out the key points to illustrate," said Pleasantville, N.Y. native Jaclyn Aloia, a senior communication studies major minoring in graphic design.
"It was interesting," said Alex Gentner, a senior dual major in new media communications and graphic design from West Valley, N.Y. "A lot of times at Cortland I've worked with groups within my major, but I haven't really worked with people in another department, so that was a good experience."
Choosing COVID-19 as the topic for this joint project resonated with students, who were eager to learn more about how the virus is changing our lives.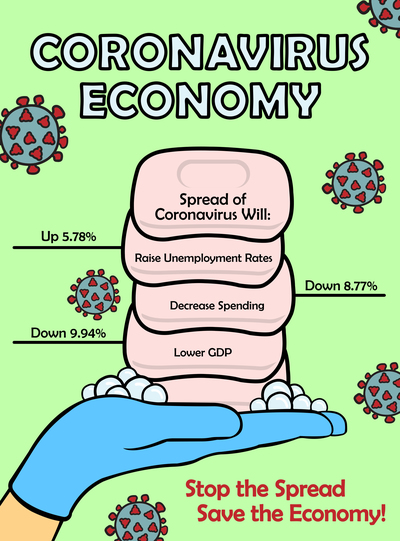 "In general, any time we can bring a lesson to a student that's relevant, that makes it meaningful," Edlund said. "It's very easy for them to get excited about it, which was exactly the case. In that sense, it made the teaching side of it very easy because we didn't have to work on the motivation."
One of those students, Jose Diaz Duran, a junior physics major from the Bronx, N.Y., studied the potential economic impact of COVID-19. He looked at the Great Depression of the 1930s and the Great Recession of 2008 to 2009 as comparative markers for current economic issues facing Americans.
"The topic was something that interested me because it was something new," said Diaz Duran. "We had never done this before. It was interesting to do the research and have Professor Edlund help us with the math. We figured out a model that was really close to what we're living at the moment. I really liked that."
For Avery Tompkins, a junior adolescence education: physics and mathematics major from Owego, N.Y., the project helped her make sense of a changing world and made her more connected to news stories about the pandemic.
"At the beginning of it, I didn't think I would be able to understand a model like that," she said. "He (Edlund) helped us to understand how it works. We're living in it, so that made it more interesting than some of the other ideas we had originally come up with."
Many of the graphic design students who are studying remotely from home found an audience in parents, siblings and other family members that helped shape their work. Since COVID-19 is so topical, outside opinions informed them if their work was adequately conveying their message.
"Part of this was our graphic design students emphasizing more with the general public and getting feedback from family and friends," Kadas said. "'Does it work? Does the message come across?' It has impacted their own lives and their families. It allowed them to really connect with the project and it's a way for educators to teach and make them realize importance of their voice and applying the skills of what they learn in class."
---