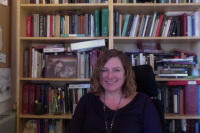 Andrea R. Harbin
Website: http://facultyweb.cortland.edu/HarbinA/

---
Dr. Harbin teaches Medieval Literature at SUNY Cortland. Her research interest is in digital humanities and in medieval drama, particularly the role of women in the craft guilds and their relationship to the production of the plays.
Education
Ph.D. The Catholic University of America
M.A. California State University, Sacramento
B.A. University of California, Davis
Teaching
Graduate Classes:
Old English
Middle English
Chaucer
History of the English Language
Undergraduate Classes:
Introduction to Drama
Major Figures in British Literature to 1780
The Study of English
Shakespeare
Topics in Medieval Literature
Arthurian Literature
Publications
"Augmenting Chaucer: Augmented Reality and Medieval Texts." Andrea Harbin, Tamara O'Callaghan, Alan Craig, and Ryan Rocha. The Routledge Research Companion to Digital Medieval Literature. Eds. Jennifer E. Boyle and Helen J. Burgess. Routledge (2017) 63-81.
"Text and the Sensorium: The Augmented Palimpsest as an Augmented Reality Text." Andrea Harbin and Tamara O'Callaghan, The Digital Arts and Humanities: Neogeography, Social Media and Big Data integrations and Applications. Springer Press (2016) 169-187.
"Virgin's End:The Suppression of the York Marian Pageants." Medieval Feminist Forum(Forthcoming Summer 2014)
"Hyperprint Texts and the Teaching of Medieval Literature" Andrea Harbin and Tamara O'Callaghan Studies in Medieval and Renaissance Teaching. Vol. 21.2 (Fall 2014): 111.126
"The Citizens of York and the Archetypal Christian Journey: Pilgrimage and Ritual in the York Cycle." Medieval Perspectives XIV (1999): 84-98
Grants
"The Augmented Palimpsest: Engaging Students through AR Encounters with the Past." Tamara O'Callaghan (PI) and Andrea Harbin (Co-PI). National Endowment for the Arts Digital Humanities Startup-Grant, Level II ($60,000)