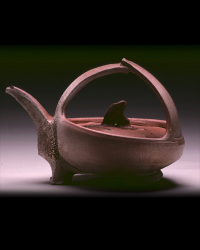 Jeremiah Donovan
---
Jeremiah Donovan has been a full time faculty member at SUNY Cortland since 1998. He received a BFA from Kansas City Art Institute, Missouri [1984] and a MFA from Boston University, Boston, Massachusetts [1986], and has completed programs of study at the Archie Bray Foundation, Helena, Montana and the Jingdezhen Ceramic Art Institute, China.
In 2005-6 Donovan was the recipient of the Chancellor's Award for Internationalization for his efforts in developing a study abroad program entitled China Summer Study: History Culture, and the Arts. With his ongoing interest in Asian art, Donovan has established connections to Universities and art centers in China and Korea, for the purpose of student and faculty exchanges.
Fellowships have enabled Donovan to travel to China, Tibet, and Korea where he has been both a presenter and exhibitor at the Yixing Ceramics Art Conference, China, The Jindezhen Spirit of Porcelain Symposium, China, The International Raku Symposium, Korea, and most recently at The 1000 Year Celebration of Porcelain Symposium, China. He has shown extensively both nationally and internationally, including, Ceramics 2005, Guilford Center for the Arts, Guilford, Connecticut, Evolving Legacies, at The National Council on the Education for the Ceramic Arts (NCECA), Charlotte, North Carolina, and Below 2000 at the Contemporary Arts Gallery in Portland, Oregon. His work is in numerous collections including the Arizona University Art Museum, Arizona, Fuller Art Museum, Massachusetts, Shiwan Treasury Ceramics Museum, China, and The Biseul Art Center, Daegu, Korea.