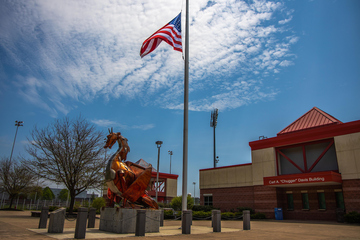 03/01/2022

Due to low demand, the state's free COVID-19 testing clinic will operate in the Stadium Complex's Carl A. "Chugger" Davis Building ceased operation last week Friday.
The New York State Department of Health and Quadrant Biosciences opened the campus testing site in January. As vaccination rates have risen and home rapid tests become more available, the number of people using the site dropped to a handful each week. As a reminder, the testing done at the Stadium Complex was an option for students, faculty and staff who wished to test more frequently than SUNY Cortland's mandatory surveillance testing program.
All students who have religious or medical exemptions are still required to test every week in Corey Union. All employees who have not provided proof of vaccination must also test weekly. Fully vaccinated campus community members must also test when they are notified they have been randomly selected. Students will test in Corey Union. Employees should pick up a rapid test from their building administrator.
Students with COVID-19 symptoms should contact Student Health Service or an off-campus health provider for testing. Most pharmacies offer PCR testing for COVID-19 and sell home test kits. New York's online portal may help you find a test site. Free test kits are available through the federal government.
Remember, the state requires all students to have COVID-19 booster shots. If you have recently become eligible for a booster, please consider participating in the free, Wegmans Pharmacy clinic in Corey Union Exhibition Lounge beginning at 11 a.m. on Wednesday, March 9. Register for that clinic using Wegmans' online portal.
---