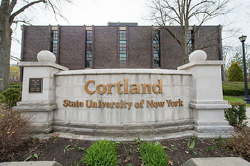 07/20/2020

The following message is being sent on behalf of President Erik J. Bitterbaum:
the SUNY Cortland community,
This week we were disappointed, but not surprised, to learn that the football league SUNY Cortland competes in, the Empire 8, was cancelling athletic competition for the upcoming semester, wiping out our 2020 football season. As unhappy as this is for an institution with a proud football tradition like ours, it is understandable given the rising numbers of COVID-19 cases across the country and the difficulty of safely managing athletic competition during a pandemic.
We are still waiting for a decision from State University of New York Athletic Conference (SUNYAC), the league in which most of our other fall sports compete, to see whether any athletic competition will be possible this fall.
You should also be aware that the threat of coronavirus infection means that all levels of sports competition, including club sports and intramurals, will be dramatically different this fall and may not happen at all. We are waiting for further state guidance related to club and intramural sports, but we are operating under the assumption that contact sports such as basketball, flag football, rugby and ice hockey will not be permitted. Club teams will not be able to travel to compete or to host other teams.
We are committed to offering alternative recreation programing and are considering activities such as tennis, badminton, KanJam, and pickleball. "Esports" opportunities will expand. Recreational Sports Office will work to help clubs stay together and modify their activities to at least be able to work on their skills. That is similar to the approach our coaches will take with our football team this fall.
This week's Empire 8 announcement reminds us that, although the pandemic has stabilized in New York state, it continues to pose a challenge to our ability to restart safely. Although we plan to return to campus for the fall semester, the changing pandemic situation could force us to change direction very quickly. Students and their families should be prepared for our plans to evolve and change to meet new realities and that we may very well need to return to remote learning before the semester is over.
In order for our return to be successful it will require each and every one of us to strictly follow guidelines and practice safe behaviors such as social distancing in every aspect of our lives. Last week, SUNY Cortland leadership approved a detailed policy for the use of face coverings on campus. I urge you to read it and familiarize yourself with the guidelines, as we will all be held accountable for them.
All members of the SUNY Cortland community should also avoid traveling to any of the 22 states that Governor Andrew Cuomo has identified as high risk. Like our international students, students who live in any of those states will be asked to come to campus 14 days early so they can quarantine in Cortland. Similarly, any student or employee who travels to one of those states within two weeks of coming to campus should plan to quarantine at home before coming to Cortland.
Although the university has arranged to provide quarantine and isolation housing to students who need it during the semester, it is limited and should not be a student's primary option. Students should talk with their families and make sure that arrangements are in place should they be exposed during the semester and need to come home for 14 days. If that is not a safe option for a student, then we will consider quarantining in Cortland.
We are also in the process of creating a SUNY Cortland Safe website that will be accessible from our Restart SUNY Cortland page. This page will be focused specifically on what the college is doing – and what individuals will be expected to do – to keep themselves and those around them safe. We will let you know as soon as it goes live.
Thank you for your continued patience as we work to establish a safe "new normal" on campus.
All the best,
Erik J. Bitterbaum
---